This post contains affiliate links which means that we may receive a small commission if you make a purchase through a link at no additional cost to you. Thank you for your support!
San Lorenzo
The Basilica di San Lorenzo is one of the largest and oldest churches in Florence. It is located at the center of the city's main market district, and the burial place of all principal members of the Medici family from Cosimo il Vecchio to Cosimo III. San Lorenzo was also the parish church of the Medici family. It was the Medici family who paid for most of the art found inside. The rough exterior was to have been covered by a facade designed by Michelangelo but was never added.
This is one of my favorite churches in Florence. The outside is so understated compared to the beauty within. The location makes it a great place to sit with gelato and people-watch. People sit for hours on the steps just watching the day pass by. There are small shops located around this corner location. Mainly the shops are all leather stores selling jackets, gloves, and handbags. I can shop with my eyes without getting in trouble with Gary!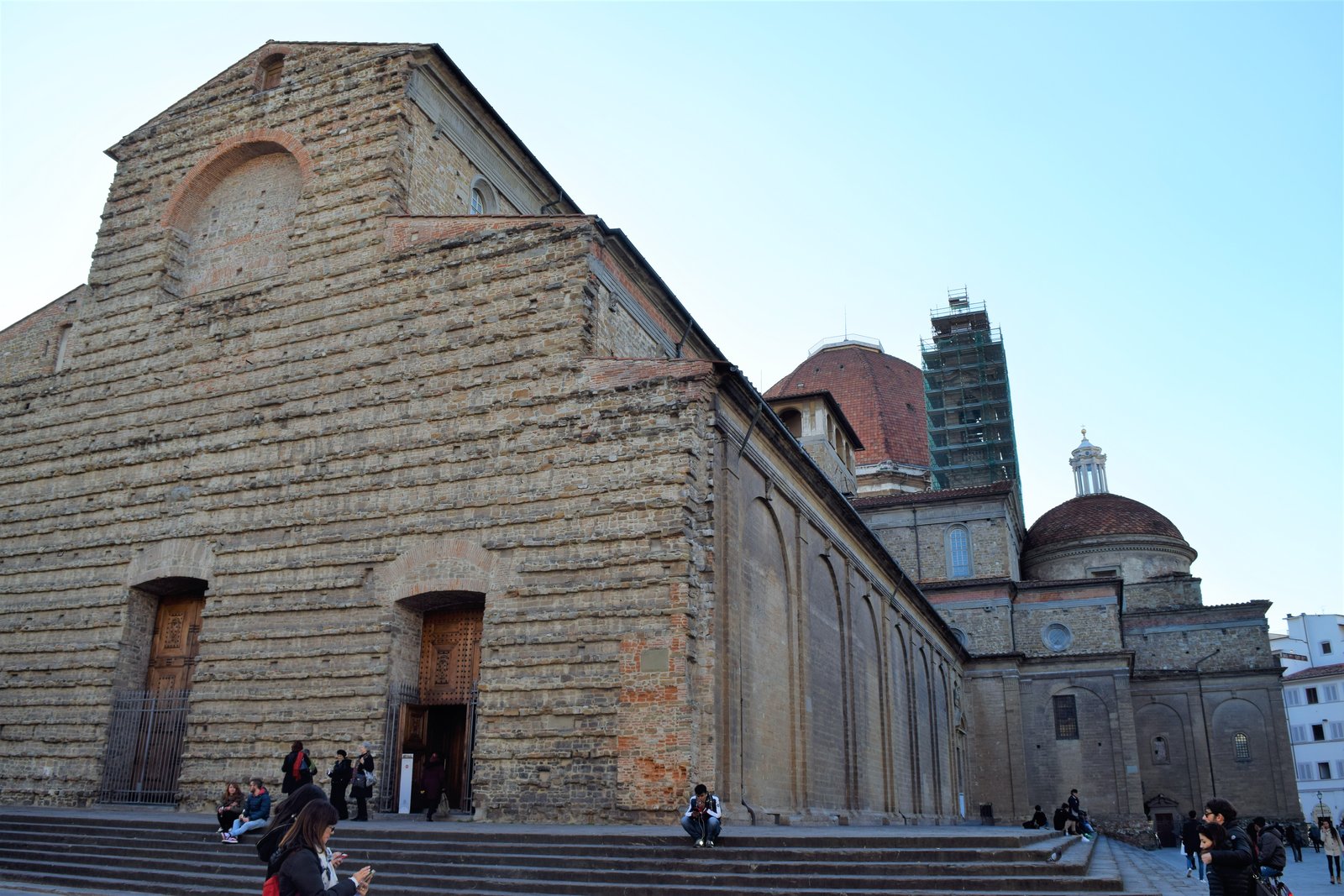 The Renaissance interior is huge and lined with chapels. The nave is covered by a coffered ceiling with gilded rosettes on a white background. The interior is pretty plain but in such a beautiful way. The only real color of the grey and white interior is the beautiful paintings and the frescoed dome over the altar.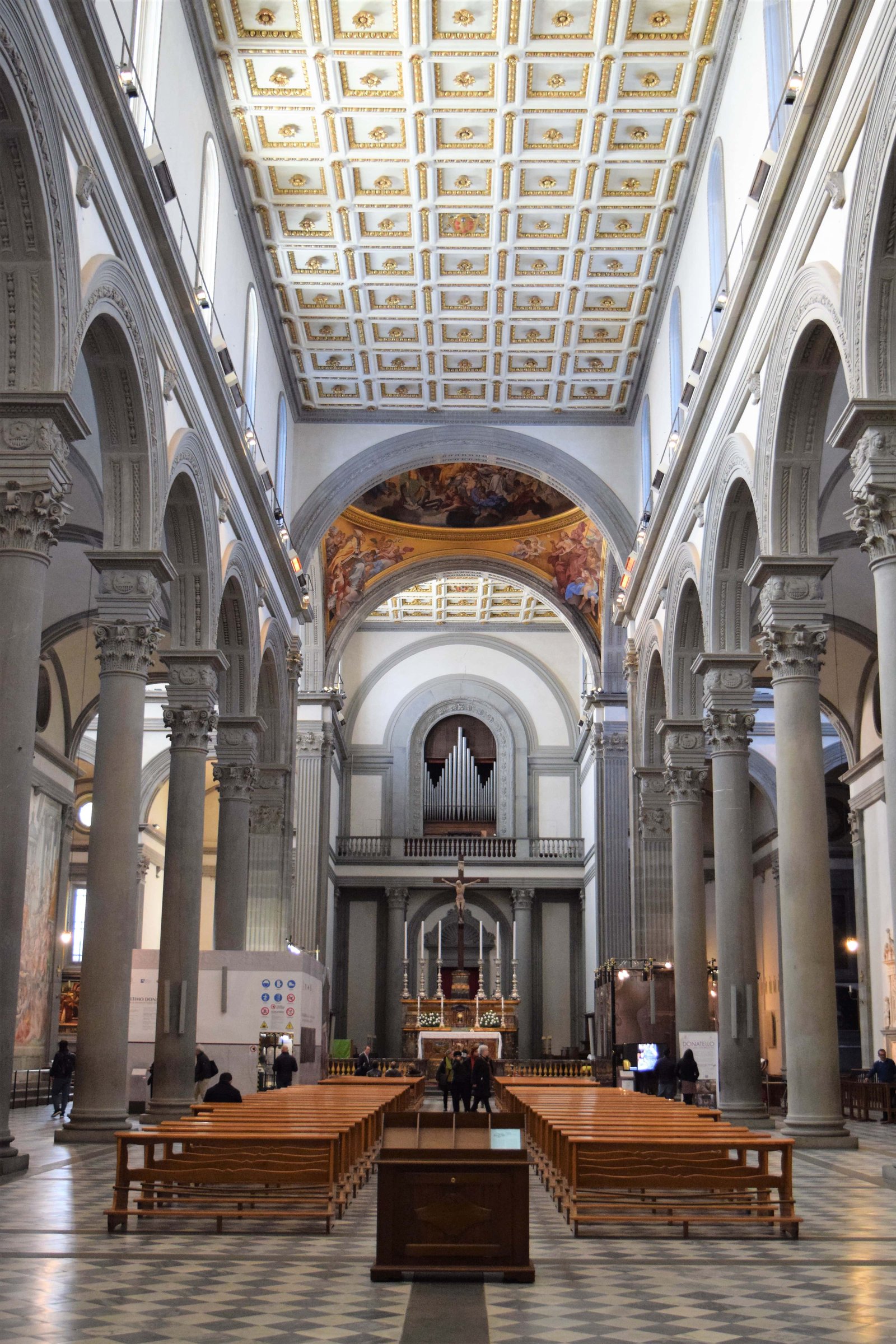 The bronze pulpit (box on left close to the altar in the picture above) is Donatello's last work. They are presently restoring it and I caught a glimpse from underneath the barricade.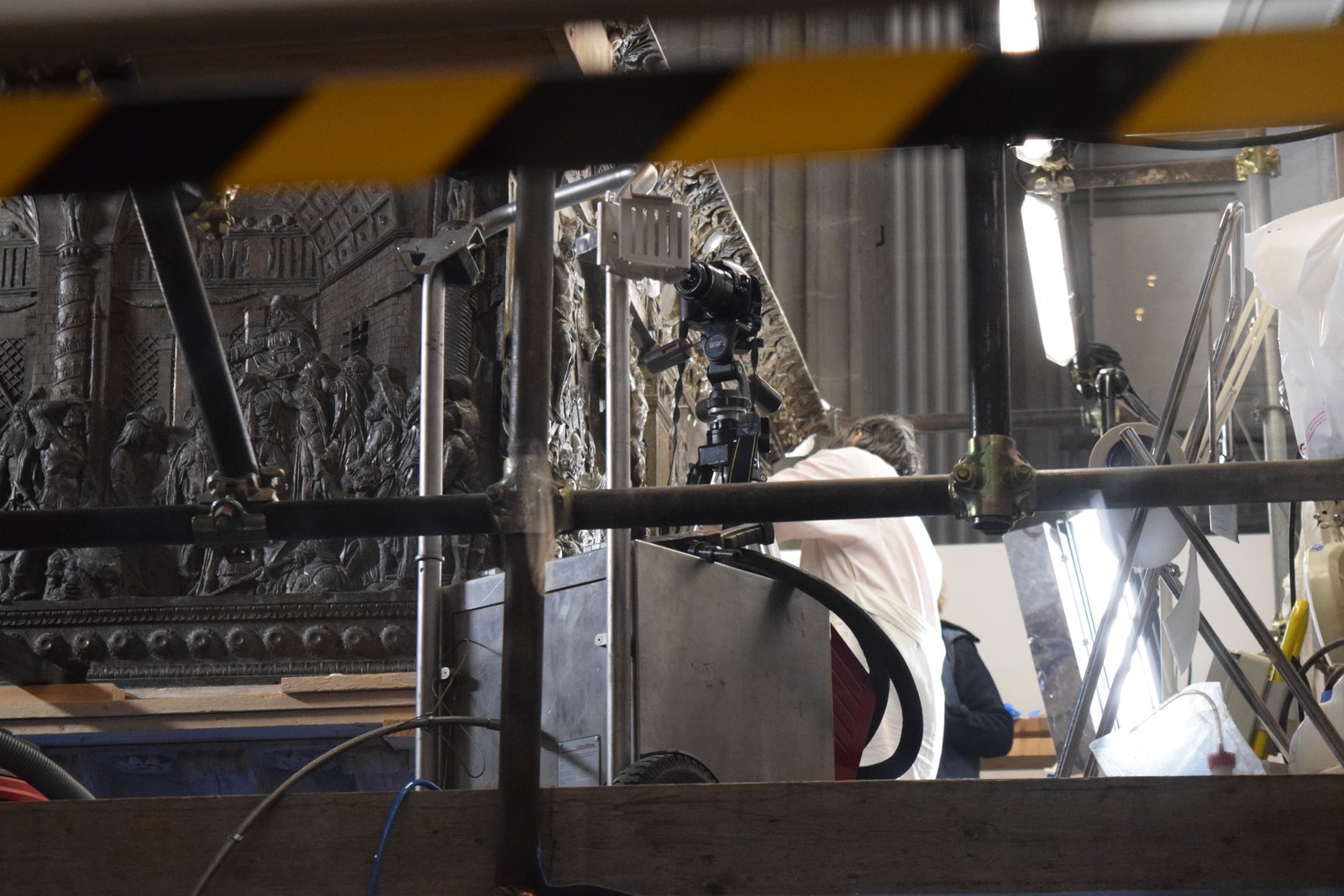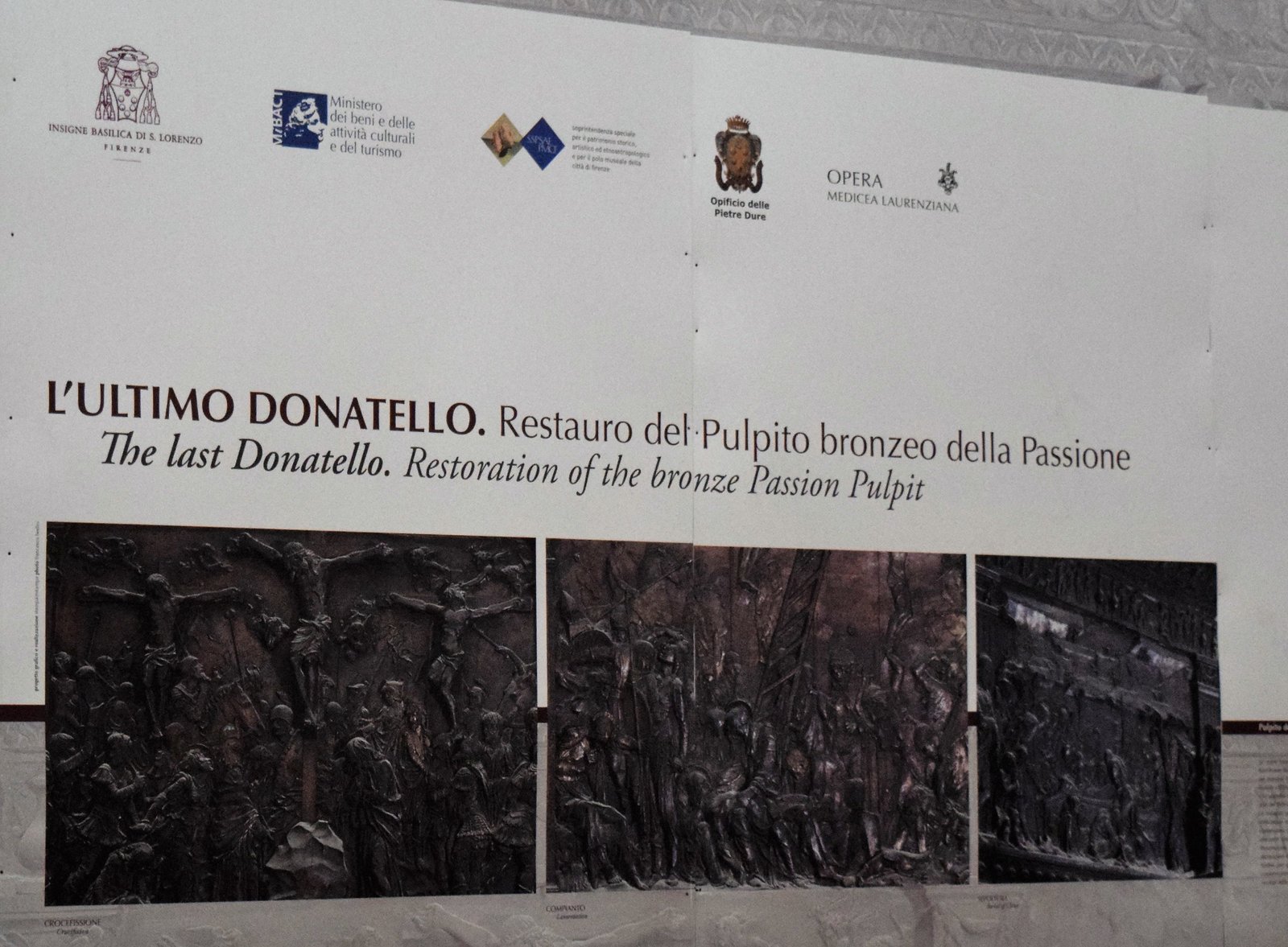 ---
---
The Medici Family
We had a young female student give us the tour. She actually was quite knowledgeable and told us detail about the Medici coat of arms (left). The Medici family has always been associated with balls. Six of them to be exact. Their family emblem, five red balls and one blue, on a gold shield, decorate numerous buildings all over Florence and Tuscany-any palazzo, church, or monument to which the Medici had connections or that was financed using Medici money. Considering that in their prime the family had its fingers in virtually every pie in Florence, it is not surprising that half the buildings in the city seem to display the symbol.
The picture (below) shows where Cosmo 1 and his wife are buried, beneath the gold grate in front of the altar.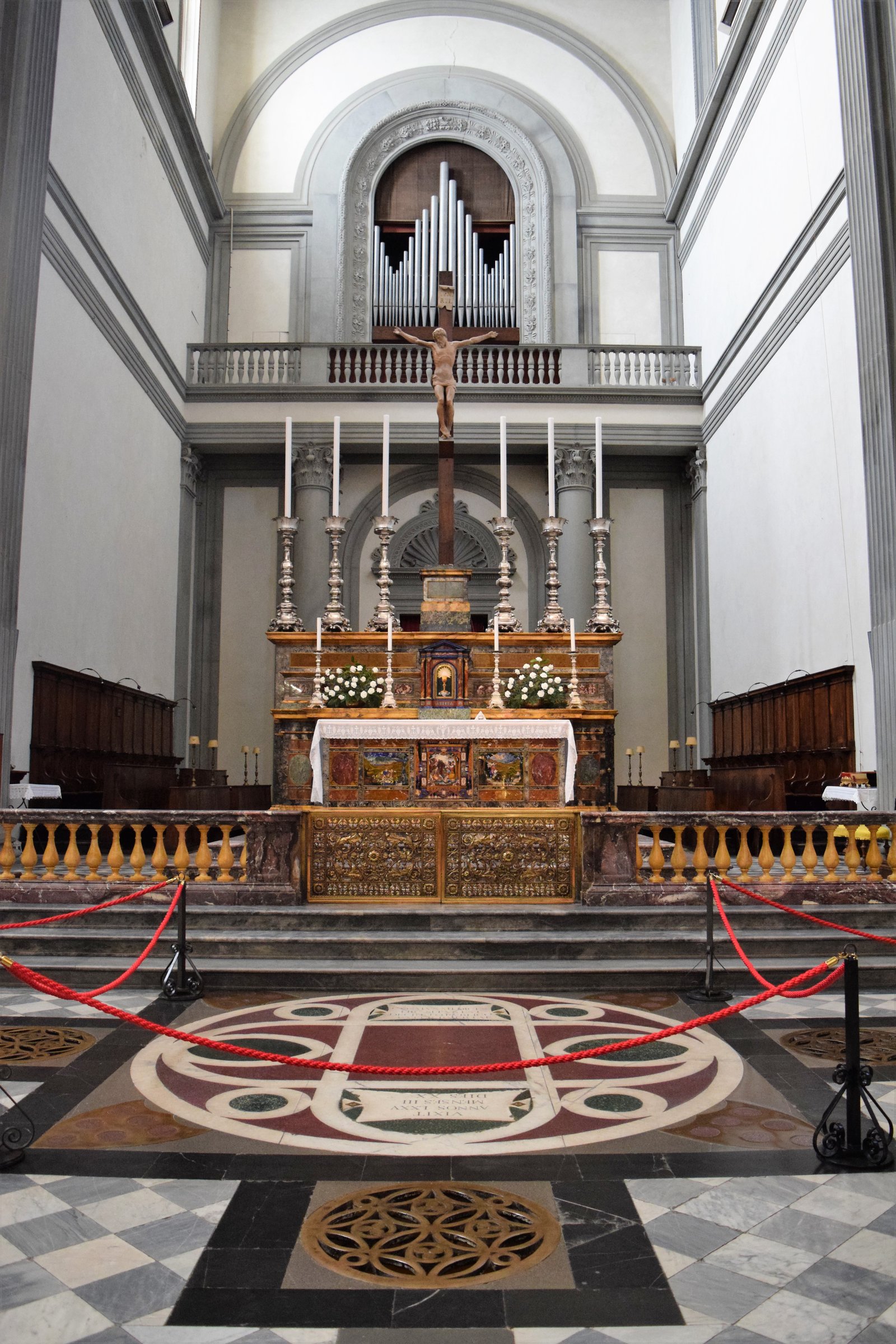 For more information about San Lorenzo, check out http://bit.ly/2klmWLx
The Art
The paintings and frescoes in this church are amazing. They just pop against the white walls.