The Challenge
The challenge of living with less began in 2018 when we sold our home. We have lived thirty-plus years in Arizona and like most homeowners collected a lot of stuff. At the time, we thought we were leaving right away for Italy so we sold our car too! Oh were we so naive!
This post contains affiliate links that help keep this website running. By purchasing through our links, we make a small commission at no extra charge to you. Thank you for your support!
The Beginning (Short Version)
Long story short – it all began in November 2015 when we went to the Italian Consulate located in Los Angeles, California. We brought all the documents that we had gathered for two years; all translated into Italian. We were "approved" by "Mrs. X" (to protect her innocence) as she went through each document, verifying all was correct. She told us that if we sold our home, it would show them that we were really serious about moving to Italy. So we did. We listed our home when we got back to Phoenix, Arizona, and sold it within weeks. Of course, we found out later, this was not a necessary thing to do. Who knew? Since we were going to move to Italy for a minimum of one year we decided to sell our furniture and most of our belongings with the house. We were very fortunate that the woman who bought our house loved our furniture and decor and purchased it all! We even sold our car as were we going to do with it sitting around for a year?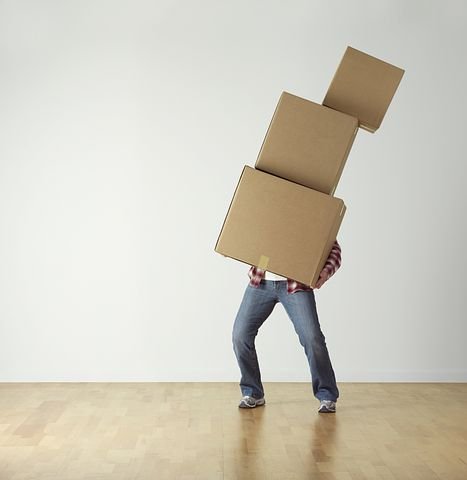 The Challenge And Our Story
So in February 2016, we had become nomads. We became wanderers, drifters, and travelers ready to see Italy first and then the world. All of our possessions fit into those green Rubbermaid tubs. By the way, that includes our clothes! After selling or giving our belongings away to family we realized we didn't really have much. A few times I would see one of our daughters wearing a necklace or a pair of shoes I loved. Of course, they would ask, "Do you want it back?" I would hesitate at times and then realize "No" I really didn't want it back, I just admired it. It has been challenging at times when cooking or baking and wanting to use a specific gadget that I no longer own.
It's Just Stuff
The bottom line is it's just stuff. Stuff we didn't have a place to put or keep. Located in our four big green tubs are a handful of our favorite DVDs, books, my sewing machine, and a few quilts I made. Also included are seasonal clothes and shoes, our Christmas stockings I painstakingly embroidered, tax and important documents, and a tie in case Gary needs one. There are a few kitchen items like our pasta machine that I just couldn't part with. What makes it so liberating is I know where everything is located. It took me half the time to get ready in the morning because I had less than half the clothes I used to. Less than half the shoes too!
One of the questions people always ask is "What did you do with all your family photos?" Believe it or not, I purchased a small scanner and for an entire year, I sat every night and scanned pictures. But it didn't stop there. I then put each scanned photo into folders by year. It was a project of great proportion! I then put all these pictures on jump drives and gave each of our children a thumb/jump drive of their own. The hard copy photos were then dispersed amongst them too.
Another nice bonus in not owning a home is we don't have to spend weekends weeding the lawn or fixing something. Life seems to have some balance now. It's about getting together more with friends and family.
While We Were Waiting…
We both had part-time jobs, waiting for the amended papers to come back to us from New York that the Italian Consulate in LA requested from us. We have gone back and forth to Italy for two 90-day adventures while we wait. You can read more about each of them in a separate post: (2016 – Parma) and (2017 – Florence) In between time, we stayed with family and were lucky enough to rent a condo for a few months from one of Gary's co-workers while he was in another state.
More challenges at that point were waiting for the last amended papers to arrive from New York. We intend to send these documents back to California with a letter requesting an immediate appointment to obtain our Italian passports. (Ya, like that would really happen!) We began this journey back in 2013 obtaining marriage and death certificates, as well as a bunch of other documents. These documents are what we needed from Sicily to prove Gary's ability to claim citizenship through his grandfather who never became a United States citizen. He was a legal resident alien who had to register every few years to stay in this country.
Currently…
The nightmare did finally come to an end. We were successful at the end of 2018 and both obtained dual citizenship. With those new maroon-colored passports, we traveled through Italy in 2019 looking for our "perfect Italian town." Did we find it? That is the story of our first book, "Our Italian Journey."
Then COVID hit and the world changed. Interested in where we are now? This is the adventure of our second book, perfectly named, "When Your Heart Finds Its Home."
If you find yourself in Lucca, Italy – let us know. We'd love to meet you!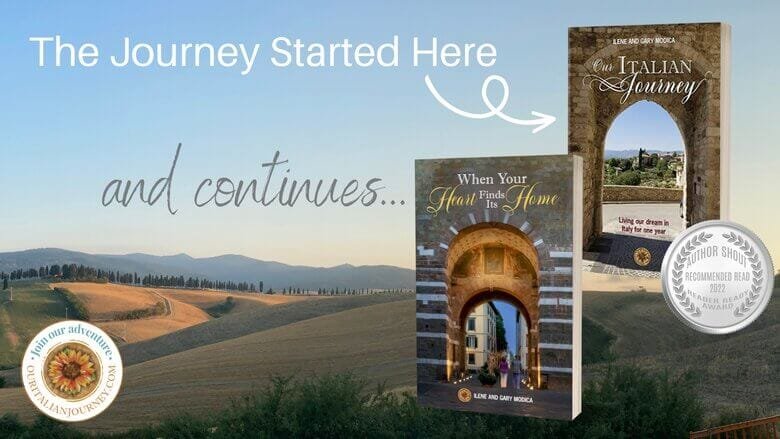 We hope you will consider joining our journey. It started in 2019 with "Our Italian Journey," and this part of the adventure has concluded with "When Your Heart Finds Its Home." Both are available wherever books are sold.
Please take a moment when completed to leave a written review. It truly makes a difference in ranking. We also love to receive photos of our book(s) cover with you, a pet, or some creative way for our social media!