So What Exactly is ETIAS?
This term is an abbreviation for the new European Travel Information Authorization System which is scheduled to go into effect in November of 2023.
This post contains affiliate links that help keep this website running. By purchasing through our links, we make a small commission at no extra charge to you. Thank you for your support!
How Will ETIAS Function?
First of all, ETIAS is not a visa, it's an electronic travel authorization, also commonly known as a visa waiver. Non-EU citizens from visa-waiver countries, including Australia, Canada, New Zealand, and the United States will need to apply.
In addition, EU residents are exempt and have the freedom of movement throughout the countries, allowing them to spend as much time as they want. However, for everyone else entering these blocks of countries from a country that didn't previously require a visa, the ETIAS will be obligatory.
After filling in an online application form, the system will conduct checks against EU information systems for borders and security and, in most cases, issue a travel authorization within minutes. In limited cases, where further checks on the traveler are needed, the issuing of the travel authorization could take up to 30 days. The ETIAS travel authorization will be a mandatory pre-condition for entry to the Schengen countries. And as a result, it will be checked together with the travel documents by the border guards when crossing the EU border.
---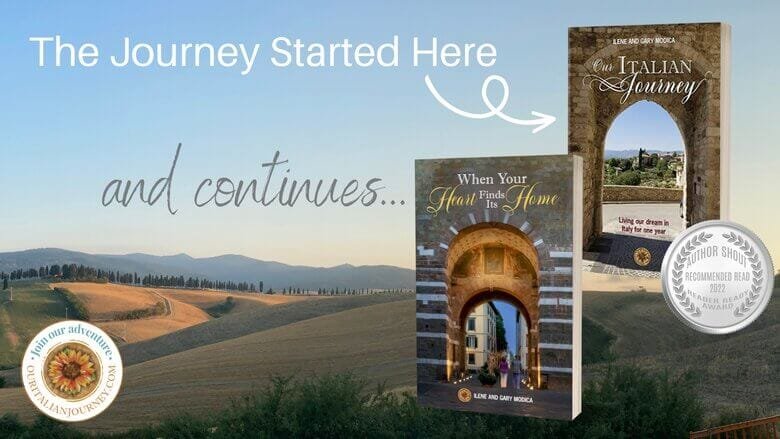 We hope you will consider joining our journey. It started in 2019 with "Our Italian Journey," and this part of the adventure has concluded with "When Your Heart Finds Its Home." Both are available wherever books are sold.
Please take a moment when completed to leave a written review. It truly makes a difference in ranking. We also love to receive photos of our book(s) cover with you, a pet, or some creative way for our social media!
---
Schengen Countries
This automated system has been created to identify high risks posed by visa-exempt visitors traveling to Schengen countries. There are 26 countries that make up the Schengen Area. They are:
Austria
Belgium
Czech Republic
Denmark
Estonia
Finland
France
Germany
Greece
Hungary
Iceland
Italy
Latvia
Liechtenstein
Lithuania
Luxembourg
Malta
Netherlands
Norway
Poland
Portugal
Slovakia
Slovenia
Spain
Sweden
Switzerland
What EU Countries Will Require This New Travel Law?
Here is a list of countries that will require a valid ETIAS authorization upon arriving at their borders: Austria, Belgium, Bulgaria, Croatia, Cyprus, Czechia, Denmark, Estonia, Finland, France, Germany, Greece, Hungary, Iceland, Italy, Latvia, Liechtenstein, Lithuania, Luxembourg, Malta, the Netherlands, Norway, Poland, Portugal, Romania, Slovakia, Slovenia, Spain, Sweden, and Switzerland.
The Application Process for ETIAS
The application process will be automated and done online. After filling in the online form, the system will conduct checks against EU information systems for borders and security and in the majority of cases, will issue a travel authorization within a few minutes. The ETIAS website indicates they are anticipating immediate approval being granted for about 95% of applicants. In odd circumstances, however, the maximum time needed for approval could be up to a month. Most noteworthy, anyone whose application is denied will have the right to appeal.
ETIAS authorization is valid for an unlimited number of entries over three years. However, it's important to note that holders must abide by immigration and overstay rules. Currently, third-party nationals are not allowed to stay more than 90 days in the Schengen block of countries.
What Information Will You Need?
You will need the following information for the online application for this travel law:
First and last name, Last name at birth, date, and place of birth
Address
email and phone number
Information regarding your citizenship
Education and work experience
First EU country you intend to visit
Background and eligibility questions inquiring about your medical condition, criminal records (if any), and other related information
The legal guardian must apply for minors
For family members of EU citizens coming from other countries, you must submit proof of relationship, residence card, and other background information.
Most noteworthy – the application form is not yet applicable on the website!

The Cost?
At this time, the cost anticipated for those between 18 and 70 years old will be €7,00. Yet to be determined is if other age groups will have a reduced rate or be able to apply for no cost.
What's the Reason for ETIAS?
Authorities will receive vital information necessary to assess potential risks with individuals traveling to the European Union and, if necessary, travel authorization could be denied. Schengen-participating countries will be able to manage their external borders more effectively and improve internal security.
In conclusion, ETIAS will gather, keep track, and update necessary information regarding visitors to determine whether it is safe for them to enter Schengen countries. All in all, the ETIAS authorization system seems like it will make traveling to the EU a much safer experience.