Lucca Biennale
Lucca Biennale has arrived in Lucca for its tenth year! Gary and I were riding our bicycles and came across a beautiful piece of art hanging in Porta dei Borghi. "What is that?" I asked Gary. He shook his head as he didn't know either. It was amazing. Striking actually. As soon as we got home, I jumped on the computer and started my research.
This post contains affiliate links that help keep this website running. By purchasing through our links, we make a small commission at no extra charge to you. Thank you for your support!
My search had me soon realize this was not the only piece of art being displayed in Lucca Centro. It's an event that is held every two years. This year Lucca Biennale will be displayed from August 1st – September 26th and there were nine individual pieces of paper art throughout the city. I was on a quest to find and see them all.
Unfortunately, we found all but one – "The Amazon" as it was inside one of the exhibit halls in Location A and was closed each time we visited. We know the event is going on until the end of September, but we don't get to this side of town that often. If we do, we will update this post! We were able to take a photo of "The Clouds of Illusion" which was also inside the same exhibit hall through a window.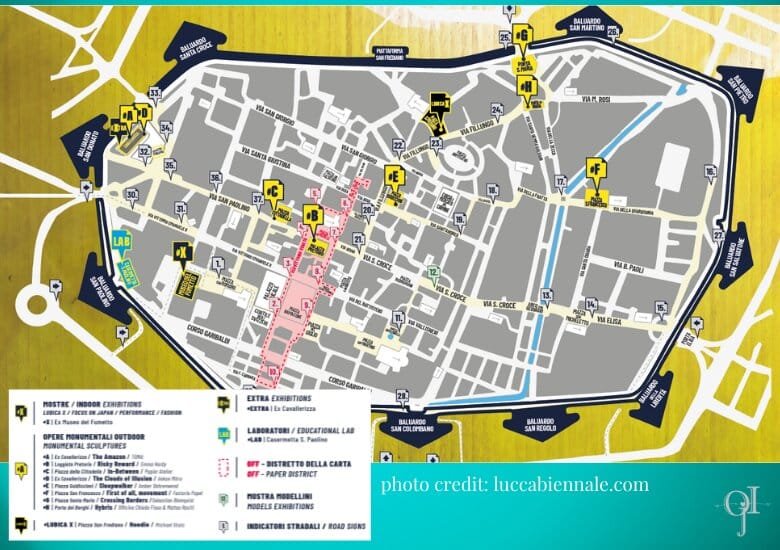 Lucca and It's Paper History
Lucca's history goes way back. It was in the 16th century when Vincenzo Busdraghi opened the first paper mill in Lucca. Then, the Biagi Family together with other rich Lucchesi families opened a total of eight paper mills.
In 1971 there were 211 paper mills in Lucca producing straw paper. But, producing it using water became too expensive. Italy is one of the world's leading producers of paper and Lucca is the most important paper district in the world. The vast majority of tissue paper for Italy is produced just outside of Lucca. This town's history makes it the perfect setting for the Lucca Biennale International Exhibition of paper art and design.
---
This is our memoir and personal adventure, which has changed our lives forever. Our Italian Journey is a compelling read for anyone who wants to experience and appreciate daily life in Italy and to understand its charm, appeal, and cultural differences. Join in the laughter as we also divulge the trials and tribulations we encountered along the way.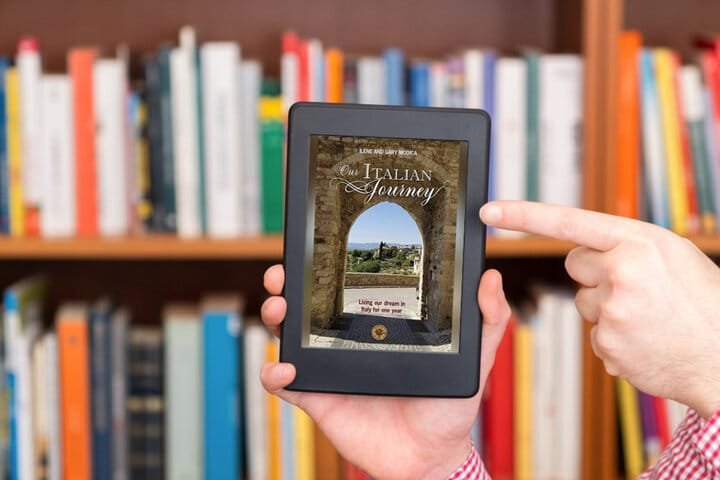 ---
Theme for 2021
"Fear and Desire" is the theme for this year's 10th Edition of the Lucca Biennale. Of course, this was supposed to be the theme for 2020 and due to the pandemic, it must have been pushed to this year. Artists will use this theme to talk about art and society, reflect, and present their works of art keeping this theme in the back of their minds. The following quote is taken from their website.
Fear always played an important role: guiding us, as individuals, but also drawing men kind's history, at its full potential. Within the element of fear, humans understand how to recognize their limits, choosing whether to challenge them or giving in to them. Sometimes fear compromises experience of new emotions, sometimes it becomes a survival instinct, like a guardian angel. Is it possible – can fear be a synonym of preservation but also growth? Might it be a limit, but also a starting point for development? Can desire assist fear when it becomes a limit? Can desire become an excess that fear has to stop?

Desire is though necessary, and it embodies the fundamentals of inspiration. Desire is motivation, movement, search for pleasure. Even if with a generally positive sense, desire hides a dark side; desires- if real or induced – can reshape aspirations, perspectives, the future of men and contemporary society.
Lucca Biennale Background
A group of creative minds in 2004 from Lucca came up with the idea of creating an event that could offer the city of Lucca, and visitors, a stimulating and unique experience of an international exhibition of paper art. Lucca Biennale is the largest contemporary paper art festival worldwide.
Lucca Biennale is an event dedicated to paper as it applies to art, design, creativity, and architecture. Paper is the medium that with innovation and personal expression produces these works of art. Each year a different theme is chosen, and the exhibition also includes conferences and workshops.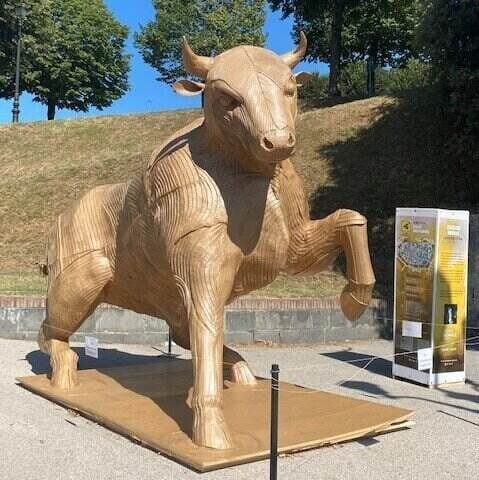 "Crossing Borders"
"Hoodie"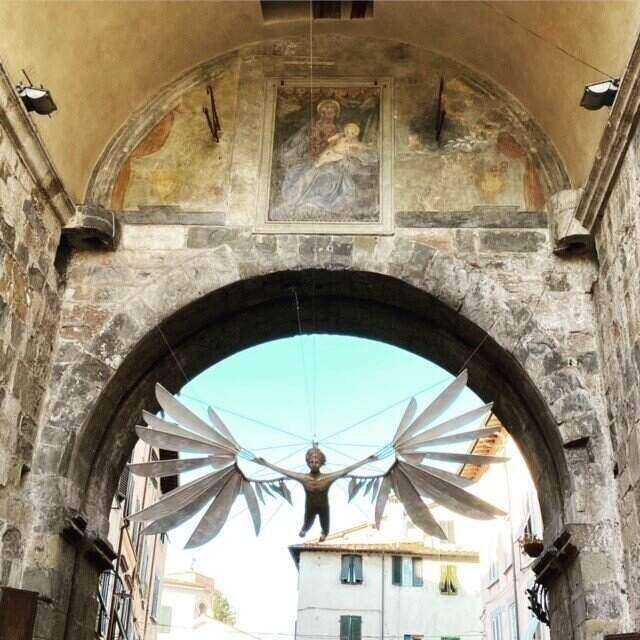 "Hybris"
"The Clouds of Illusion"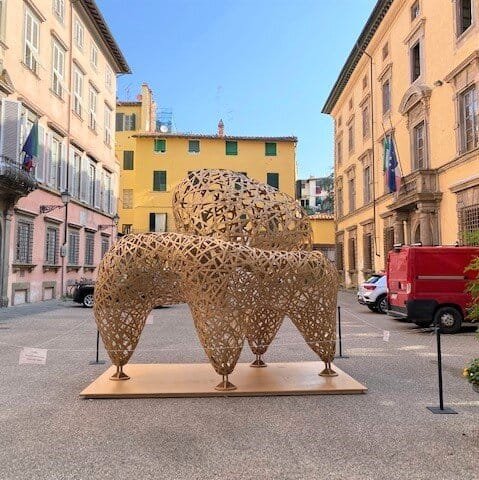 "Sleepwalker"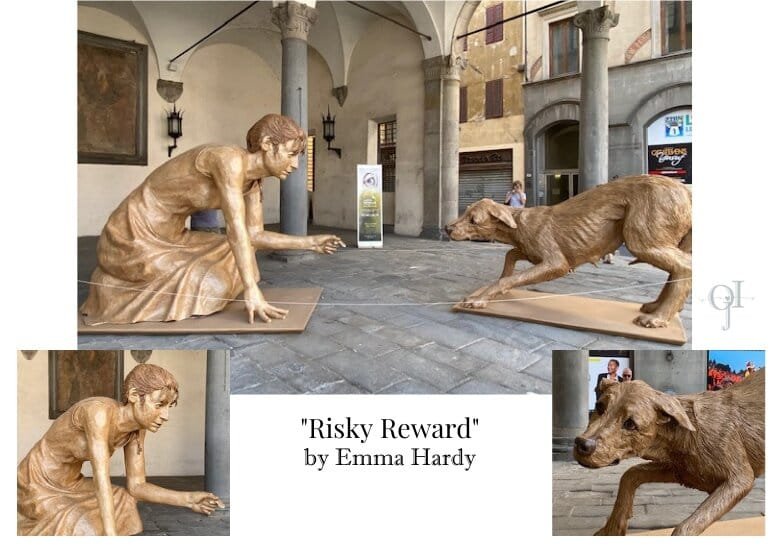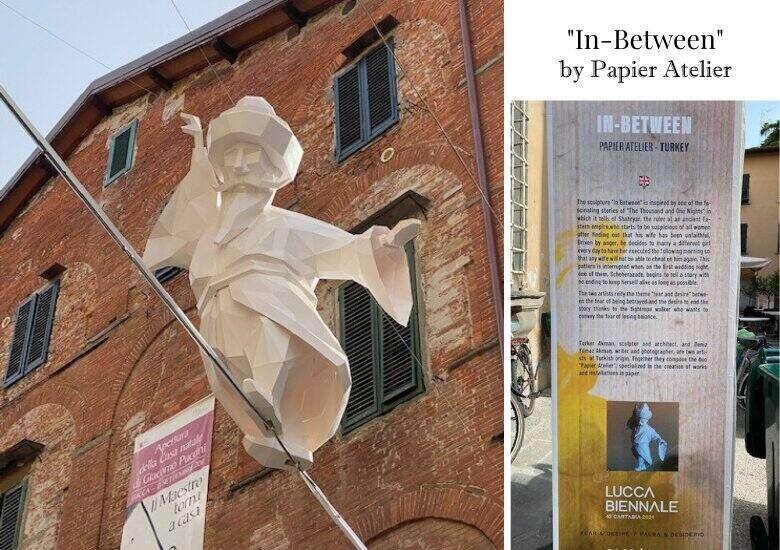 A Look Ahead: Theme for 2022
THE WHITE PAGE – Verbiage taken from the website
What does a White Page represent?
On the one hand, a blank page represents the possibility of a different future, of a dream that can come true, of an ambition, a different perspective and the possibility of an alternative to routine. A white page gives you the feeling of being able to draw a new, different, and better world. Endless possibilities.
On the other hand, a white piece of paper can represent the anxiety of it all, the negative possibilities, the unexpected implications and a leap into the unknown. The inability to act and the reality of being faced into an inevitable change, from which – despite being afraid, one cannot escape. A White Page is a bridge between the past and the future, an opportunity for free writing or the anguish of the unknown, the courage of making a choice or the loss of a comfort zone.
Compare hotels and vacation rentals here:
Conclusion
We are looking forward to seeing what the theme, The White Page presents to Lucca at the next event. Because they had the 2020 event in 2021, I am unsure at this time if they will indeed have the 2022 event or if will they restart every two-year event from this year. We hope to see them next year, and of course, will report back.