Our Love of Arezzo
Gary and I did a day trip to Arezzo while staying in Florence during our one-year adventure in 2019. It is on the main train line between Florence and Rome encompassing beautiful countryside along the way. It only takes about 45 minutes to an hour to get to Arezzo from Florence.
This post contains affiliate links that help keep this website running. By purchasing through our links, we make a small commission at no extra charge to you. Thank you for your support!
One of the main reasons we love Arezzo is that it is a hidden gem and less known by tourists than the other big Tuscan towns. It is located on the eastern tip of Tuscany. You mainly hear Italian spoken everywhere you go, and it's difficult to find a restaurant that isn't reasonably priced.
We fell in love with this town on our day trip and decided to spend a month here later on in August. It was record-breaking heat throughout Western Europe during this time but we survived. After all, we have lived 30+ years in Phoenix, Arizona – but the difference was certainly the humidity. Something we are not used to.
A Recent Find
We recently rented Life is Beautiful which is an Oscar-winning film starring and directed by Roberto Benigni. The film was released in 1998 and Roberto won the Oscar at the 71st Academy Awards in 1999. This was no easy feat as he actually won over Tom Hanks in Saving Private Ryan. This film also won several other major awards.
We wanted to see the movie before returning to Arezzo this year so we rented it with English subtitles on Amazon. It was a great movie and we recognize most of the streets and landmarks in the film. We understand the city is dotted with signposts directing you to locations in the film; which we will check out this year. The main square, Piazza Grande, is where the famous bicycle scene was filmed. What this father did for his son during the Holocaust — it was a real tearjerker in the end. If you haven't seen this movie, it is truly one to be enjoyed.
Giostra del Saracino
We were lucky to be in Arezzo and attend the September event including everything that led up to the day. It was an amazing time to be in this town. It is held twice a year in June and September and is a medieval event that should not be missed. We were staying in the Porta Crucifera neighborhood and we purchased their scarves to show our support. We plan to attend the first event in June this year and will share more then. Giostra del Saracino 2019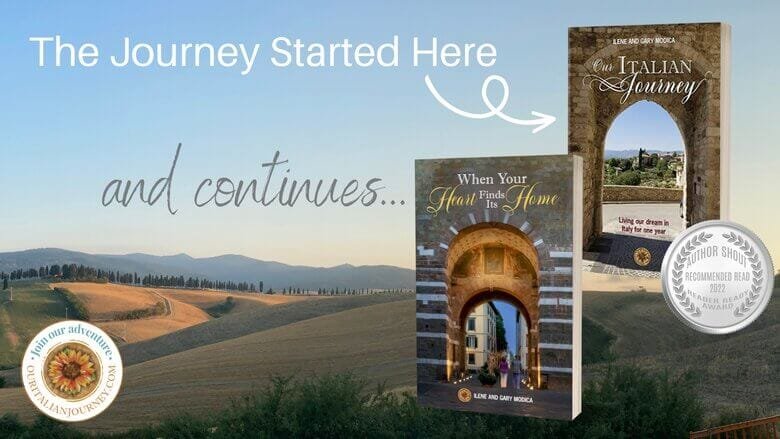 We hope you will consider joining our journey. It started in 2019 with "Our Italian Journey," and this part of the adventure has concluded with "When Your Heart Finds Its Home." Both are available wherever books are sold.
Please take a moment when completed to leave a written review. It truly makes a difference in ranking. We also love to receive photos of our book(s) cover with you, a pet, or some creative way for our social media!
Landmarks & Points of Interest
Piazza Grande
This is the main piazza in Arezzo and it is an architectural mix of Renaissance, medieval, and traditional Italian styles. On the first Sunday of the month, you will find antiques filling this piazza and through the streets. There can be as many as 500 stalls packing the town on this day. We also came across a flower market on one of the weekends. It was spectacular.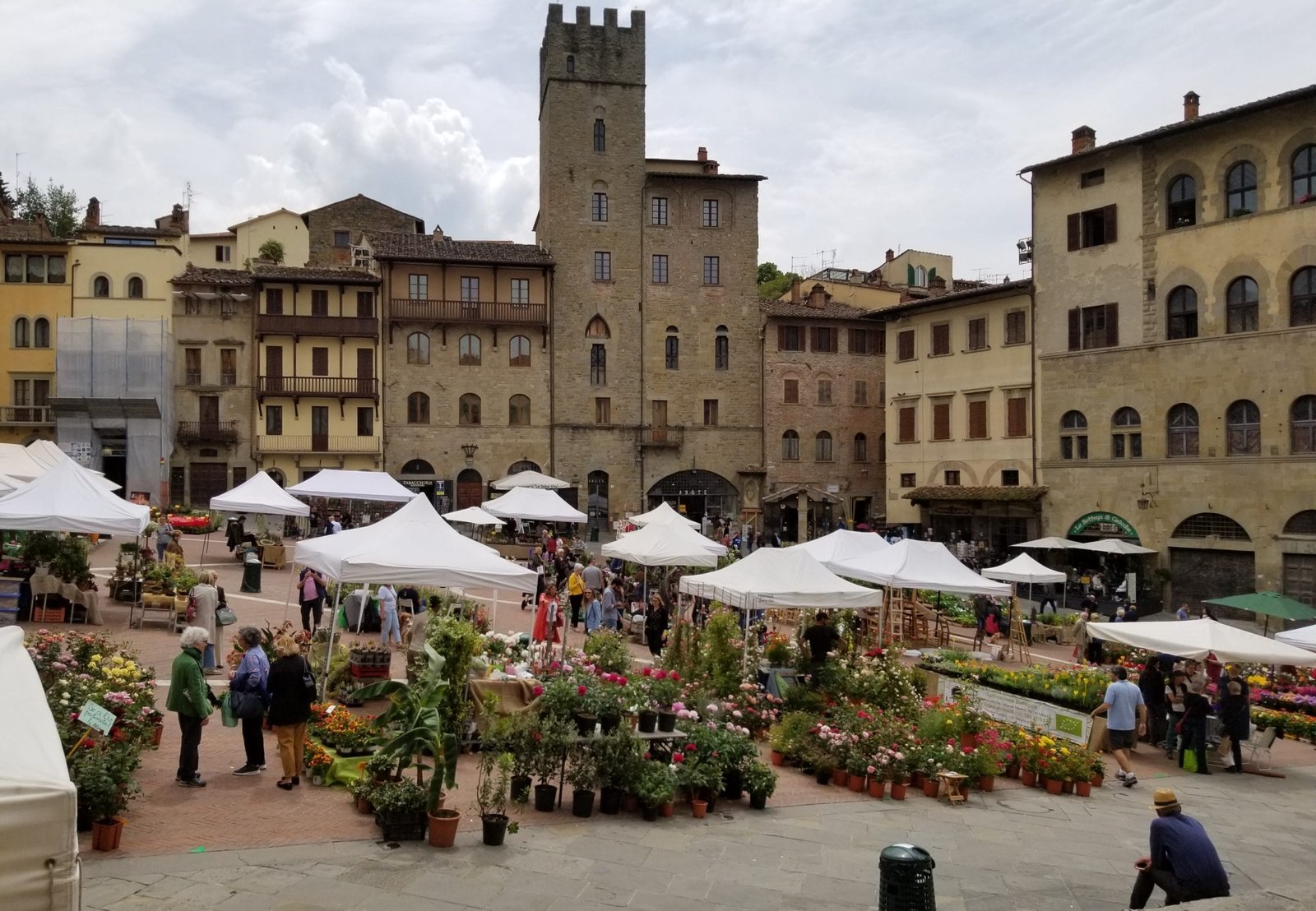 Fortezza Medicea
Built during the 16th and 17th centuries, it is a great place to wander and explore. Breathtaking 360-degree views of Arezzo and the surrounding countryside can be enjoyed from up here.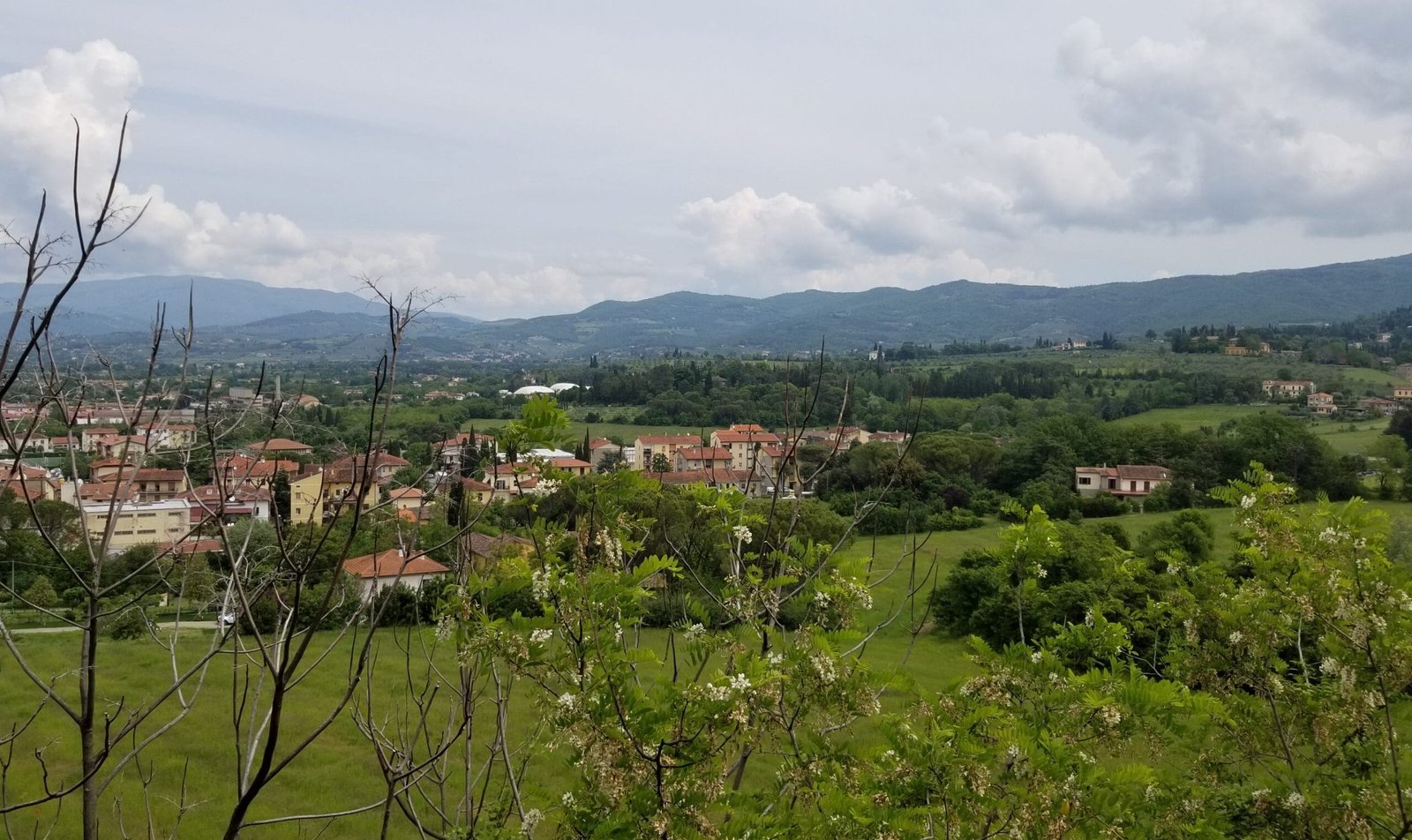 Parco Passeggio del Prato
This large park is filled with benches to sit and enjoy the scenery under the beautiful trees. You might catch a musical event here as we did just before the Giostra. Groups were practicing the horns and drums at all hours of the day and even until 9:00 pm. A great place to pack a lunch and enjoy the surroundings.
Palazzo della Fraternità dei Laic
Located in a corner of Piazza Grande is the entrance to this Palazzo. The inside is beautiful but take the climb up to the roof for amazing views of the city. While there, investigate the clock inside the tower to see how it keeps time and chimbs for the town to hear.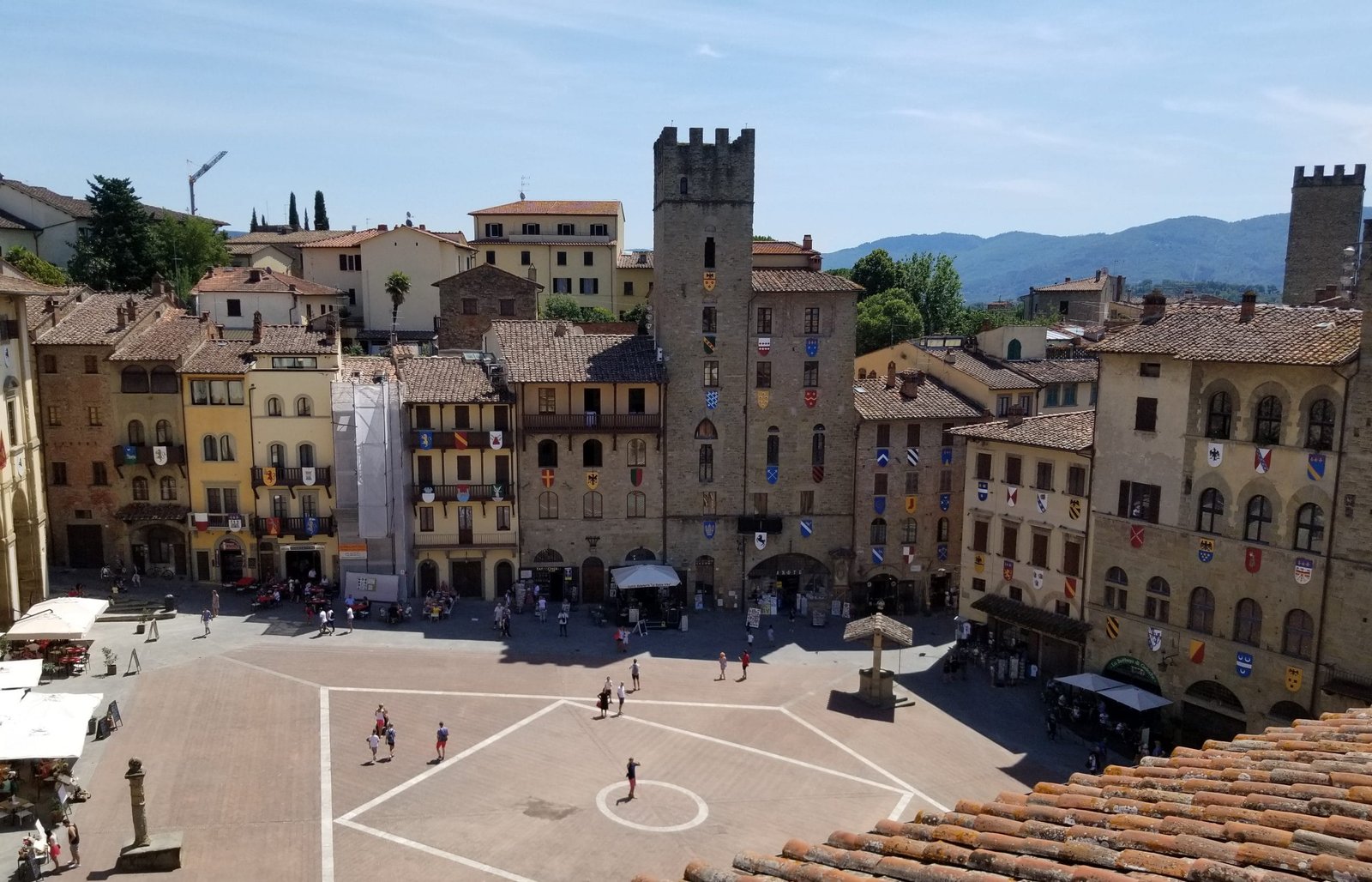 Churches
There are several churches in this town but the top three are:
Duomo San Donato – Sitting high on the hill, stunning artwork can be found here including beautiful paintings, frescoes, and reliefs created by the architect, Donatello. During the Giostra, many events take place inside the cathedral.
Basilica of San Francesco – This church is very plain from the outside but inside it is renowned for its Renaissance frescoes.
Church of Santa Maria della Pieve – Built in the 11th century, it is the oldest remaining church in Arezzo. The back of the church faces Piazza Grande with all its arches and columns.
We hope you continue to follow our journey and remember, if you have any questions about traveling in Italy, please get in touch with us. We'd love to help you with your adventure!