It's Christmas in Rome!
Celebrating Christmas in Italy has always been a dream of mine. To be able to celebrate and experience this holiday in either Rome or Florence was on my bucket list. And here we are starting our year journey in Rome and during Christmastime.
This post contains affiliate links that help keep this website running. By purchasing through our links, we make a small commission at no extra charge to you. Thank you for your support!
Vatican Christmas Tree
The Vatican tree was lit and the Nativity scene was unveiled on Friday, December 7th. We were so happy we got to be there to witness it ourselves this year. We were there with a few thousand close friends.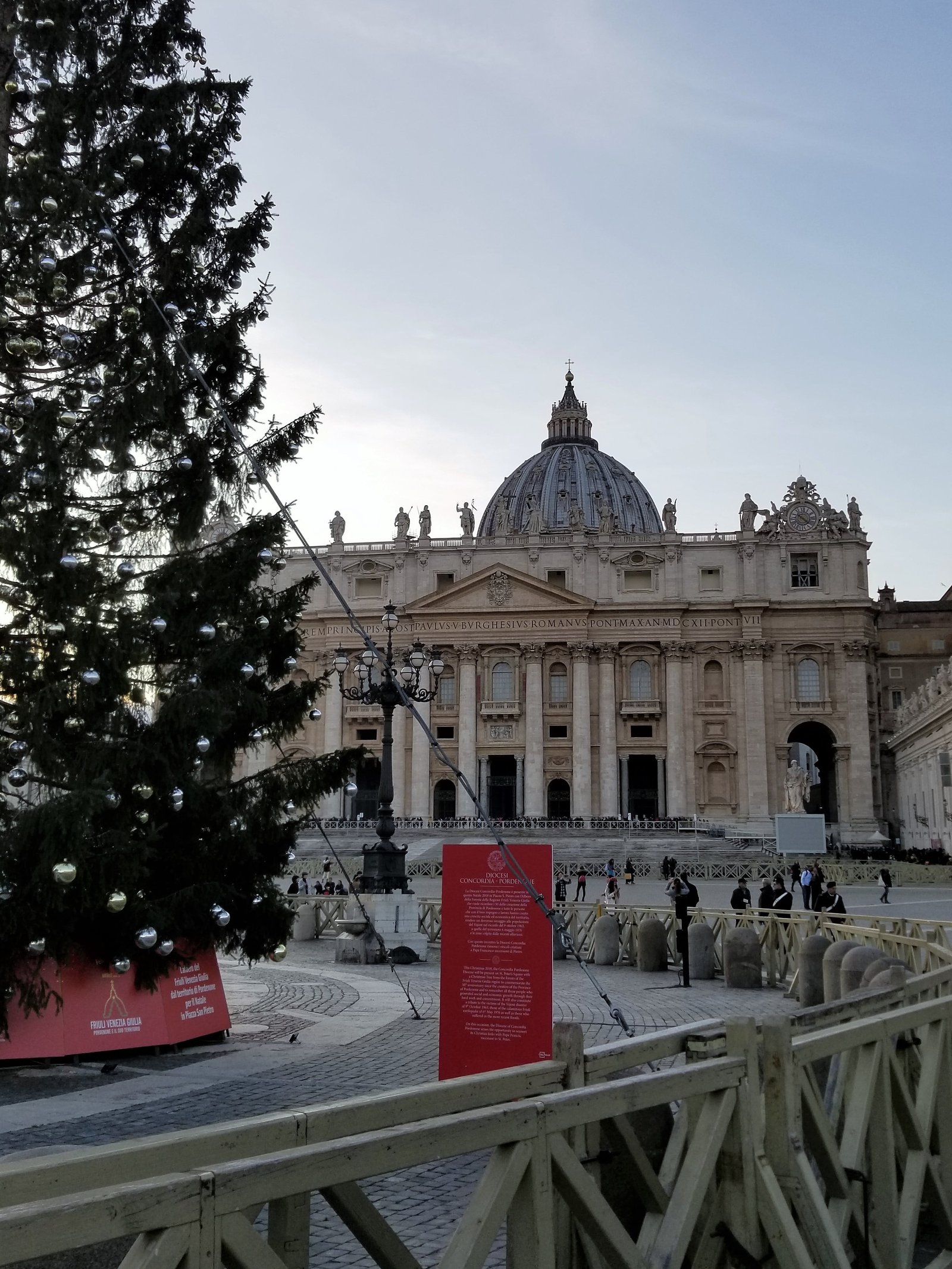 So let me tell you a little about the tree this year in St. Peter's Square. It stands 82 feet high and weighs 4.5 tons. The trunk measures 50 centimeters and the branches extend about 32 feet. It's a red fir from the forest of Cansiglio which is located in the province of Pordenone and about 435 miles north of Rome. Most people know this area as The Dolomites. It was donated by Italy's northeast Friuli region and will stay in its location until January 7, 2019.
The tradition of a Vatican Christmas tree was begun by Pope St John Paul II in 1982.
Ceremony
According to Cruxnow.com, representatives from the region of Veneto and Friuli Venezia Giulia had the opportunity to meet the Pope earlier in the day before the lighting ceremony. "He told us things that we will not forget," they said at the ceremony.
These two Christmas symbols, Pope Francis told the delegations that brought the creche (nativity scene), and the tree to Rome, "help us contemplate the mystery of God, who made man in order to be close to us." Sand, he said, is a poor material that "recalls the simplicity, the littleness, and frailty with which God shows himself through the birth of Jesus in the precariousness of Bethlehem."
Francis also reflected on the meaning of the Christmas tree, whose lights "remind us that Jesus is the light of the world, the light of the soul that drives out the darkness of enmity and makes room for forgiveness."
Italian Bishop Giuseppe Pellegrini of Concordia-Pordenone described the Christmas tree as a "survivor," since it managed to resist the heavy rains and gusts of wind that almost destroyed the Friuli Venezia Giulia region in November, leaving many families without water or electricity. "It's a symbol of life and strength," Pellegrini said during a press conference on December 7th, "a sign of light, which it brings before all."
Both these books beautifully capture the essence of Italy, its people, and the strong sense of community that defines life in small Italian towns. With lyrical prose and reflections, Ilene & Gary invite readers to accompany them on a journey of self-discovery and transformation in the heart of Tuscany.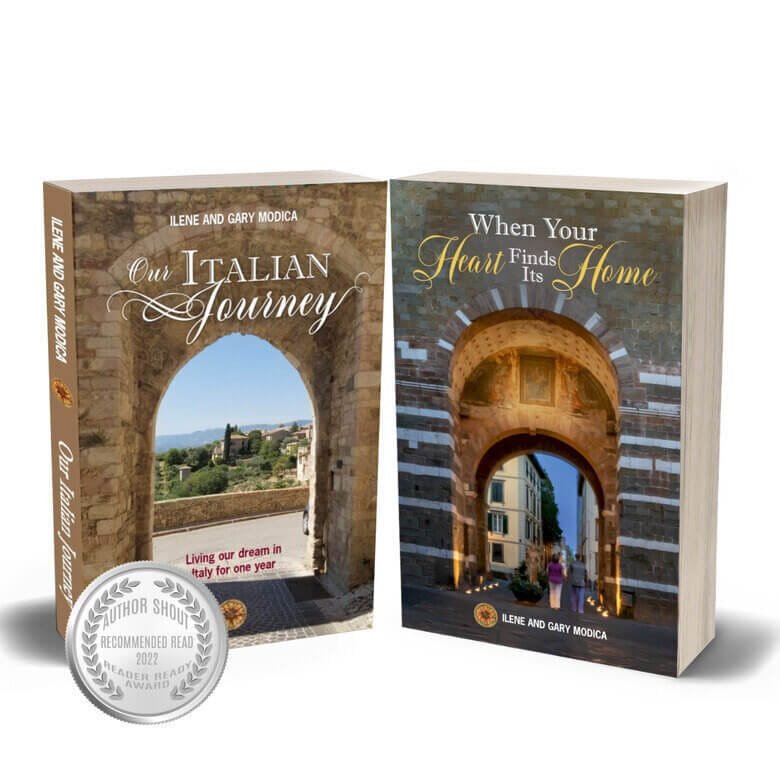 Nativity Scene
The tree this year will be accompanied by a giant Nativity scene made out of 700 tons of compacted sand from the beach of Jesolo near Venice. This area is known for its sand sculpture festival.
There were four artists from the Czech Republic, Holland, Russia, and the United States who prepared this scene. They started this work in mid-November and it is 8 meters high and is about a thousand cubic meters of sand in total.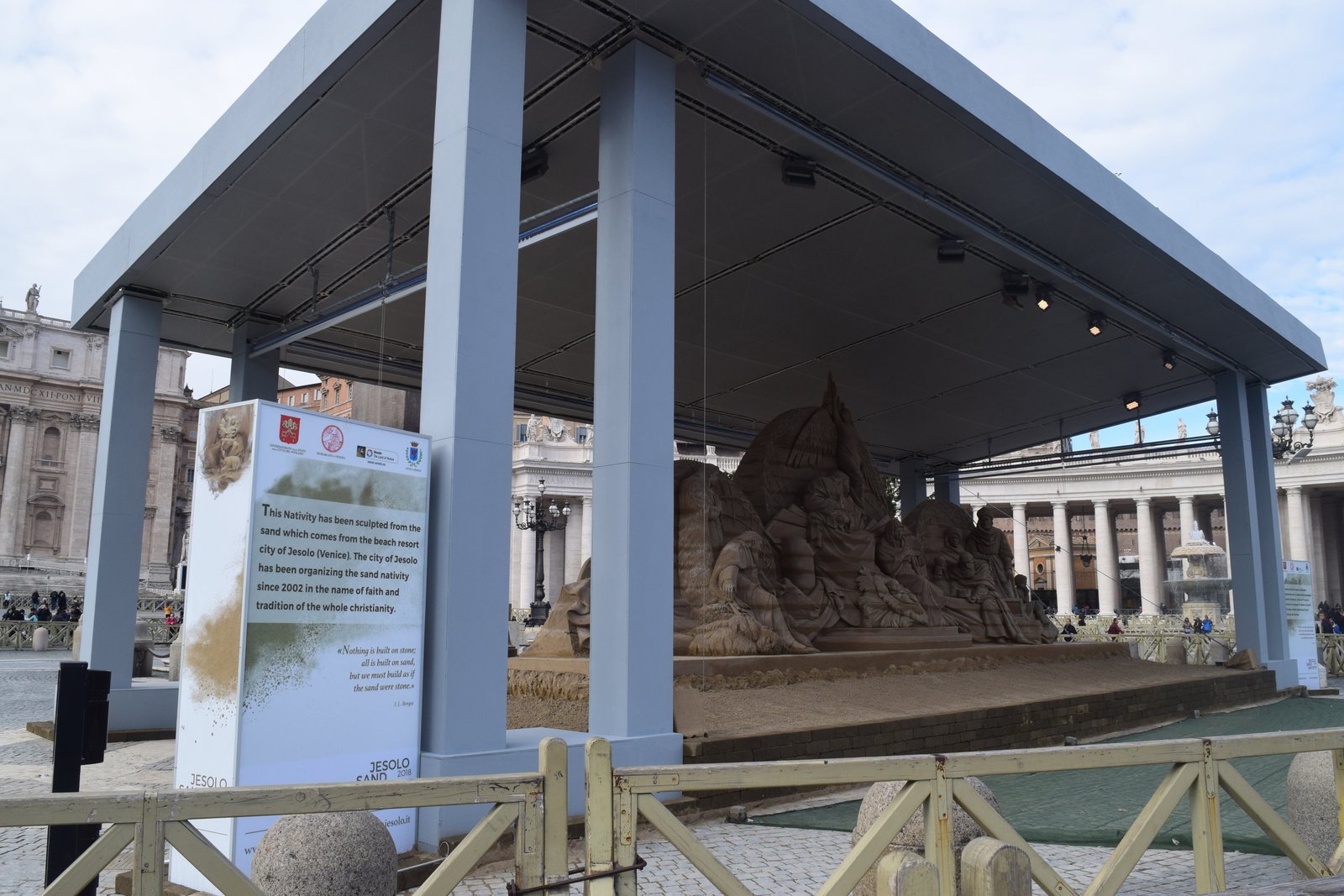 See It For Yourself (Or Skip To The Good Stuff)
Rome's Christmas Tree
The tree in front of the Vittorio Emanuele II Monument, also known as Altare della Patria is sponsored by American media-services provider Netflix which paid €376,000 to install and decorate the tree in Piazza Venezia. It has 60,000 LED lights and stands 20m high.