Bolzano, Italy
Bolzano is the provincial capital of the South Tyrol region and an amazingly beautiful town. We only stopped for one day on the way back from our trip to Innsbruck, Austria so we didn't get to do everything we wanted. We wanted to find out about the German influence on this northern Italian town. German may be the first language of 95% of this region but yet in Bolzano, the majority is Italian-speaking.
This post contains affiliate links that help keep this website running. By purchasing through our links, we make a small commission at no extra charge to you. Thank you for your support!
Take the Train
The train ride through Bolzano up through the Brenner Pass is simply stunning. They say it is quite a dangerous road to drive but I think that is due to the snow and the time of year you are traveling. The scenery is worth the trip alone. The mountains are dotted with cattle and sheep and homes with flower boxes attached to the dark-stained wooden cut-out railings. Of course, these flower boxes would probably depend on the time of year you visit too. We were in Bolzano in mid-September and everything was colorful and still blooming.
Normally I work on my Italian lessons listening to my iPod when we are traveling by train yet my mind was mesmerized by the beauty outside my window; I just couldn't concentrate on learning anything. Rather than fighting it, I gave in and put the lessons aside for another day.
What is it About This Town?
Bolzano is magical in its quaintness and what it offers to tourists. Several worlds collide here in lifestyles. On one hand, Bolzano is Northern European, and on the other more Mediterranean. This is evident throughout the town. Most of all, for centuries, Bolzano has been the center of commercial exchanges between Italy and Germany.
Bolzano today, the capital of Alto Adige, has become a city that has a little bit of everything for everyone. Modern enough–yet old. The city offers numerous trails for those who wish to take a walk without getting too far from the city center. The one path we took followed the Adige River with its beauty and white water rough areas at times. It was picturesque. Yes, this is the same river that winds up in Verona.
In addition to all the beauty, there is plenty of green space to enjoy a picnic along the river or just get lost through some of the small roads. We indeed got lost while trying to find one of the castles and were taken clearly off course. We enjoyed the walk anyway vowing to return to see and experience the castles. And by the way, one of the charms of this town is that the street signs are bilingual; both in German and Italian! In addition, depending on the time of year, you can take advantage of one of the three cable cars available to take you to the plateaus that surround this town.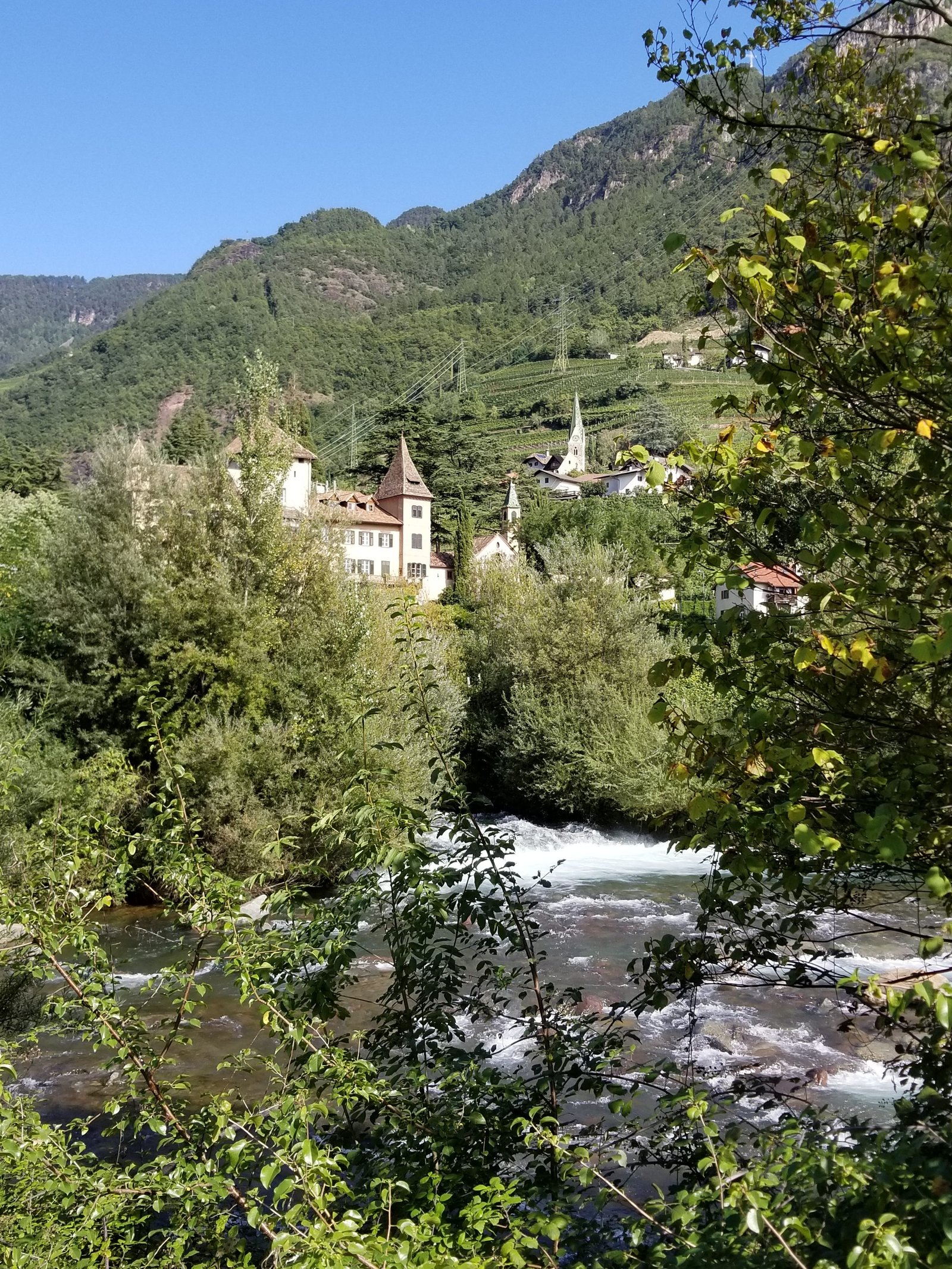 Both these books beautifully capture the essence of Italy, its people, and the strong sense of community that defines life in small Italian towns. With lyrical prose and reflections, Ilene & Gary invite readers to accompany them on a journey of self-discovery and transformation in the heart of Tuscany.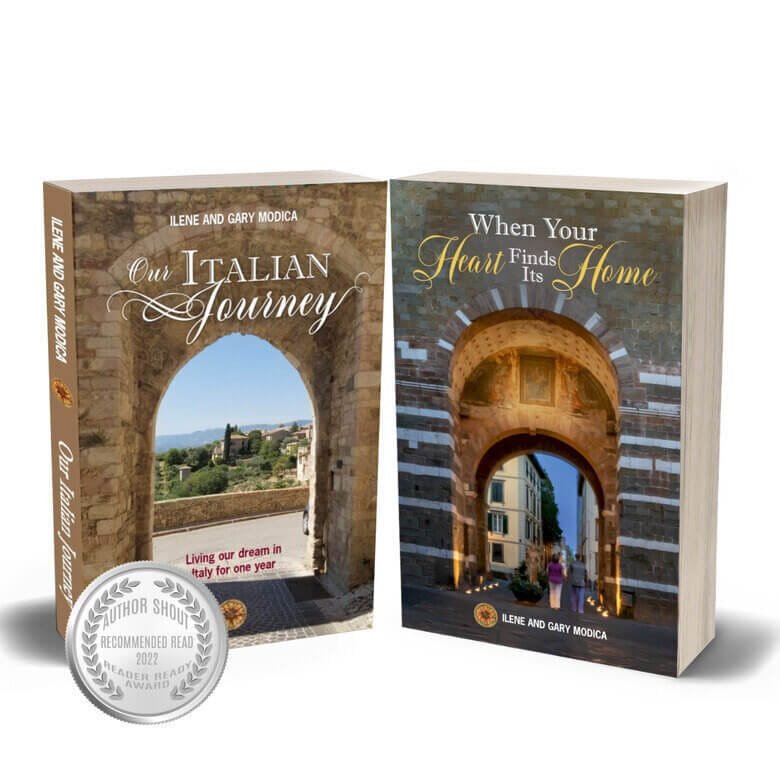 ---
Famous Christmas Markets
Again, visiting Bolzano in September, the markets were not open yet but we did read about them. This is supposed to be one of the best towns to visit from late November through December. The numerous Christmas markets and Advent events have conquered the South Tyrolean Wine Road in the last years and are now permanent events on the calendar. People come from all over to visit these Christmas markets.

Cuisine
There is a mix of Italian and German foods in this town. You can find things like Italian pasta and osso buco to Knödel (bread dumplings), wurst and spaetzle. We enjoyed an amazing charcuterie board with the best-tasting salamis, cheeses, and pickles in a small little bar! The bread too is excellent which is always a point of contention for us. In addition to food, local wines such as Vernatsch (Schiava) and Blauburgunder (Pinot Noir) are incredible–and so is the beer!
Castles in the Area
Serving as a fortress, Runkelstein Castle was built in 1237 by the Nobles of Wangen. Today it is medieval remembrance filled with beautiful paintings.
The Sigmundskron Castle with its majestic towers can be seen high above the town. In 1957, it was the site of South Tyrol's biggest protest ever, led by the former South Tyrolean governor Silvius Magnago. Thousands of South Tyroleans united to protest against the Italian government which had failed to fulfill the Treaty of Paris.
Haselburg Castle was built in the late 12th century and has some valuable frescoes.
Reifenstein Castle features a Castle Tavern and a playground for children.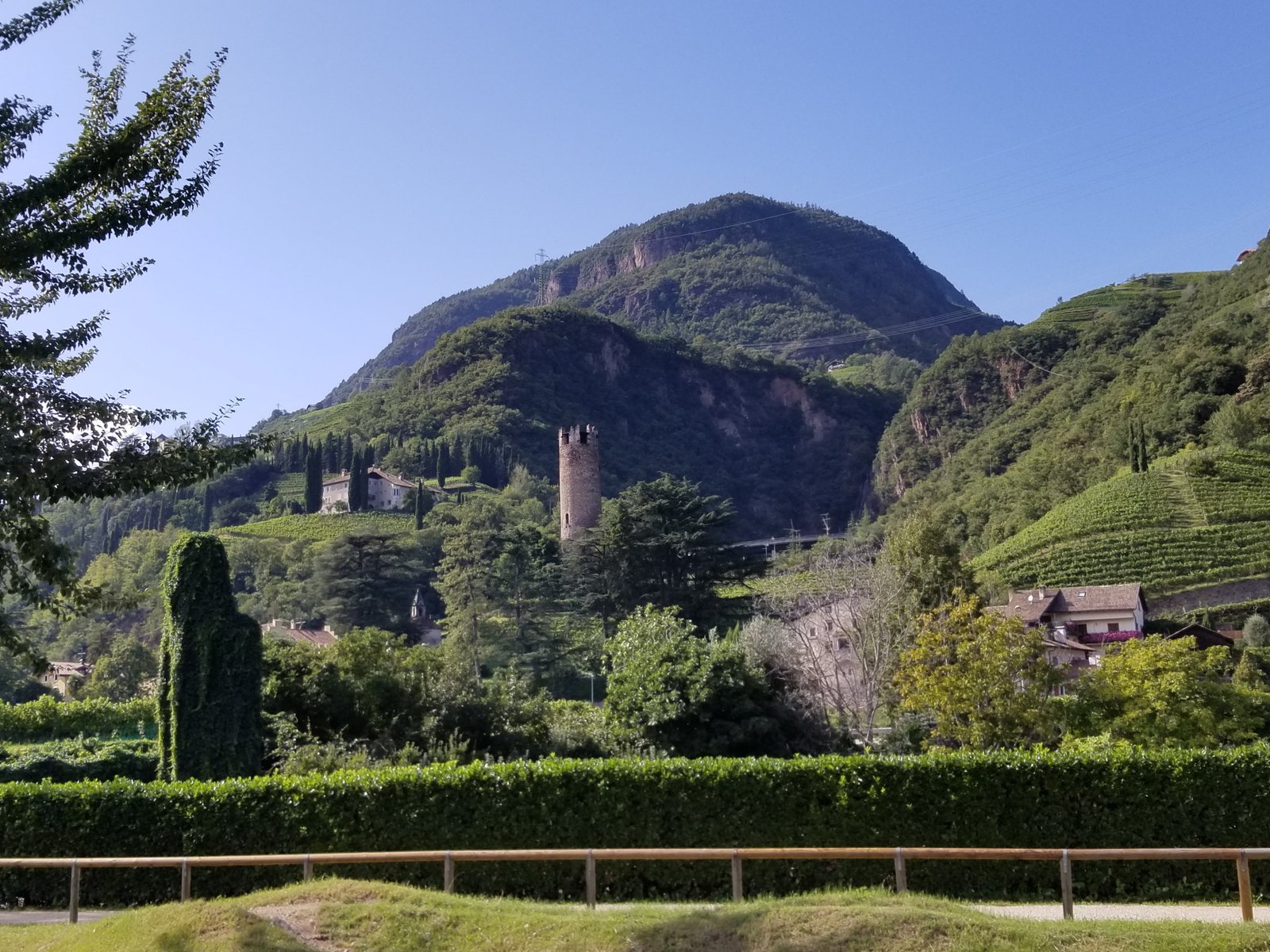 In Conclusion
We definitely plan to return to this town and although I would love to visit the Christmas markets, just don't think snow is something I want to see again soon. It's not one of the things I miss about living in New York. This region is a beautiful area and one we highly recommend visiting. The quaintness and scenery will be forever in your hearts.