The Cinque Terre (pronounced: chin-kwe ter-re) is the most iconic highlight of the Italian Riviera. The five beautiful and colorful coastal towns are a must-see on any trip to northwest Italy. They lie west of La Spezia's Province and comprise the villages: Monterosso al Mare, Vernazza, Corniglia, Manarola, and Riomaggiore. The Cinque Terre is perhaps one of the most popular destinations located just outside the borders of Tuscany, and easily accessible by train.
This post contains affiliate links that help keep this website running. By purchasing through our links, we make a small commission at no extra charge to you. Thank you for your support!
About the Cinque Terre
These five towns occupy a little over 11 miles of the beautiful rocky Ligurian coast. They are dominated by a chain of mountains, enriched by terraced vineyards, and olive trees. They are also part of the UNESCO World Heritage List.
These five villages each offer a unique and enchanting landscape and traditions. Although they are similar in many, many respects, these five locations have distinctive traits, their own history, and charm. They are all equally beautiful – and a must to explore.
Both these books beautifully capture the essence of Italy, its people, and the strong sense of community that defines life in small Italian towns. With lyrical prose and reflections, Ilene & Gary invite readers to accompany them on a journey of self-discovery and transformation in the heart of Tuscany.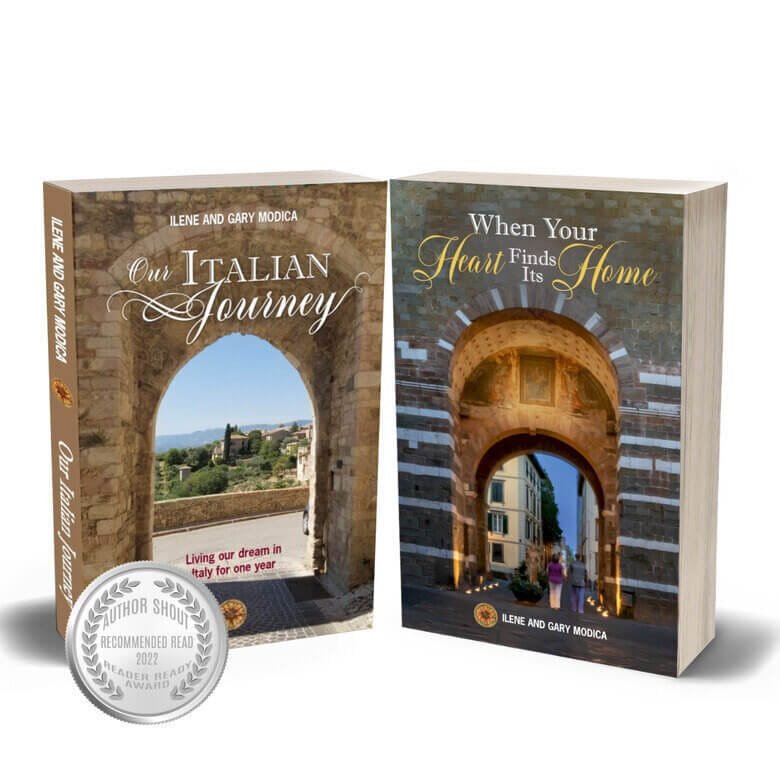 Getting Around the Five Villages
There is a train that cut through a series of coastal tunnels transporting people from village to village. But, make sure you purchase for the correct stop – we reveal in our first book a rookie mistake I made and the drama that surrounded the event.
You can also use the ferry, with weather permitting. This is a wonderful way to view some of the towns from the ocean, which in my opinion, is the best way to view them in their entirety. High winds and waves will stop the ferries from running so you always need to check the day you plan to visit.
The Cinque Terre National Park is wonderful to also explore on foot or by bike with its 75 miles of scenic routes.
Riomaggiore
Riomaggiore is Cinque Terre's largest of the five villages. The pleasing pastel buildings sit upon a steep ravine above a tiny harbor.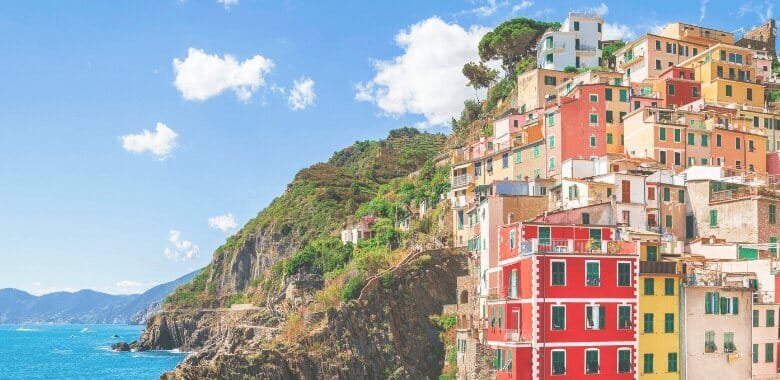 Manarola
Manarola is said to be the oldest of the villages and boasts the most grapevines. This town is famous for its sweet Sciacchetrà wine. Manarola has a lovely waterfront promenade, lined with fishing boats.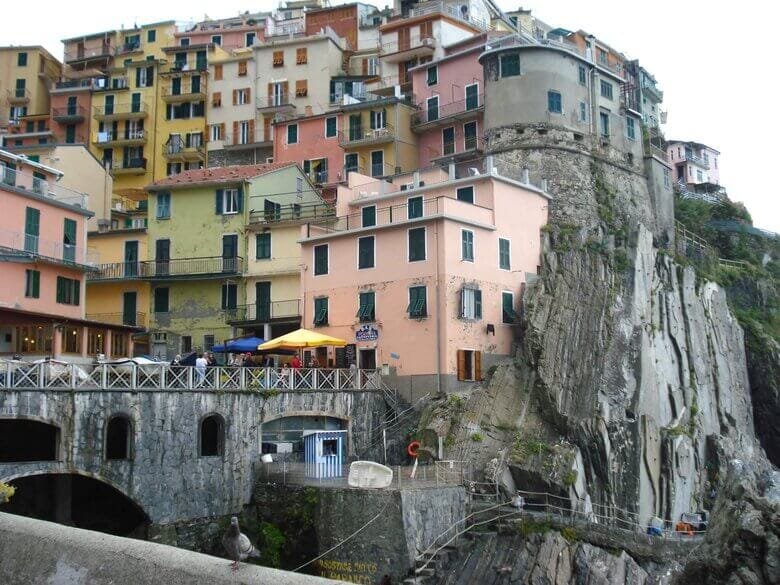 Corniglia
Corniglia sits up high on the top of a 330 ft rocky Corniglia is the "quiet" middle village that sits atop a 330 ft-high rock that juts out into the sea. Surrounded by vineyards, it's the only village with no direct sea access.
Vernazza
My personal favorite, Vernazza boasts a small charming harbor. This little village is lined with cafes and shops and is home to our favorite restaurant, Belleforte.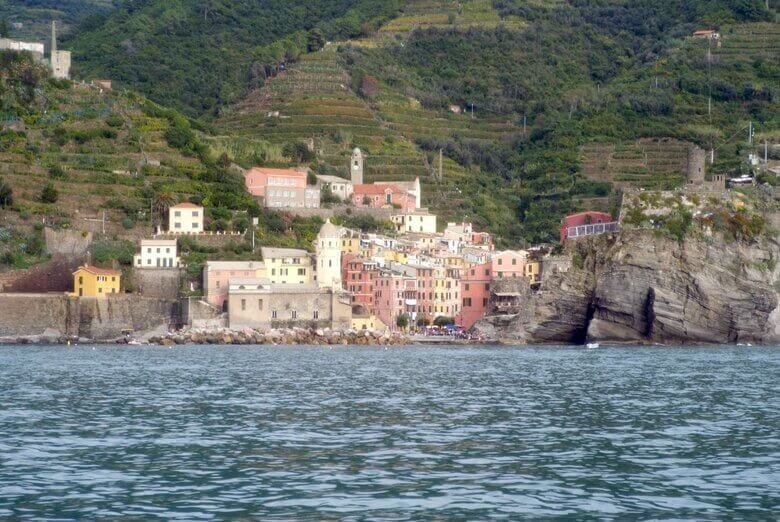 Monterosso
This is the only town with a large "true" sandy beach. This village has two sections, its old part and new area linked by an underground tunnel. When making any hotel reservations, you need to be aware of this and make sure it is in the exact location you want.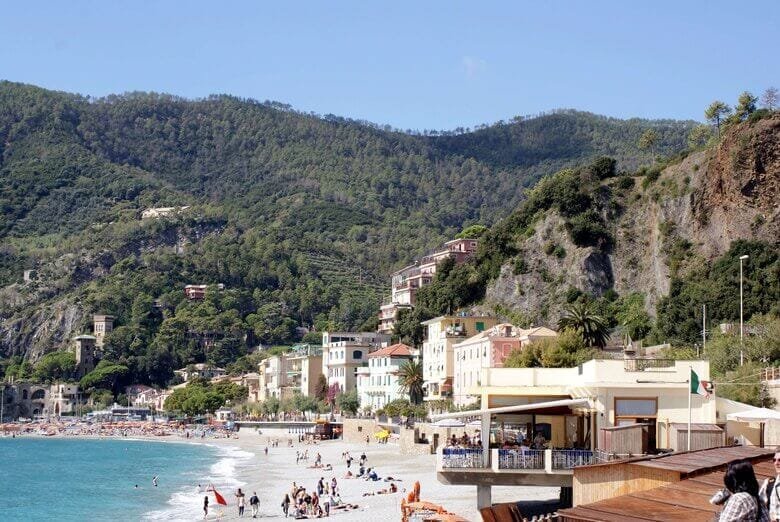 Best Hikes in the Cinque Terre
The walking trail is something Gary and I have yet to do. Every time we've visited, it's been closed due to rock slides or bad weather. If this is one of your main reasons for visiting, always check the official website for current information. Another official site is the Cinque Terre National Park Office. There are guides to take you on guided walks from May to September.
When's the Best Time to Visit the Cinque Terre?
Spring in the Cinque Terre is one of the best times of the year, with cooler weather and smaller crowds. As you might expect, the summer is packed with tourists. If possible, I would recommend avoiding exploring these towns in the summer. When you are shoulder to shoulder with other people, you really can't enjoy the charm of these towns. We know it's not always possible but the winter brings fewer tourists. But be aware… many restaurants and hotels might be closed in the winter. This area thrives and is bustling in the summer with all the visitors.
How Many Days Should You Spend?
It is simply impossible to visit the area in just a day trip. Ideally, allow three to four days to visit all five towns. To sit with a glass of wine and take in the scenery and the buzz of each – or at least one or two towns. The food is delicious – especially if you enjoy seafood. You can't find better seafood than by the sea.
Two Food Specialties of the Area
First, before we talk about food, the Cinque Terre and Liguria area has a spectacular DOC white wine, made from the Vermentino variety of grapes. They are also famous for Sciacchetrà, a sweet, dessert white wine produced since Middle Ages. Try it with pastries, cheeses, and desserts in general.
Anchovies are one of the two food specialties of the area. Now I'm not a big anchovy fan, but Gary and I shared the most amazing plate of anchovies cooked several different ways when exploring Corniglia. They are worth a try boasting intense flavor from the sea.
Pesto is another specialty of the area. In fact, this region is the birthplace of pesto. The Ligurian climate is perfect for growing basil. Pesto is usually made in this area with half Parmigiano Reggiano and half pecorino, garlic, pine nuts, and olive oil.
How to Get To The Cinque Terre
The closest airports are either Genoa or Pisa. You can use the train from either of these airports to reach the area. The easiest way to reach the Cinque Terre and to travel between the villages is by train.
Since 2001, there is a card that's a good value and something you might want to consider. The Cinque Terre Card offers discounts for the train and on hiking fees. You can purchase when you arrive or online.