Door Photos of Trulli in Alberobello, Italy
These wood door photos of Trulli homes in Alberobello, Italy adds to my obsession and passion with the wooden doors of Italy. Alberobello is a UNESCO World Heritage site located in the southern region of Puglia. A trullo (plural, trulli) is an Apulian dry stone home with a cone-shaped roof and is a style of construction specific to the Itria Valley in the Murge area of Italy.
This post contains affiliate links. Our Italian Journey will receive a small commission from purchases made through links at no extra cost to you! Thank you for your support!
If you are ever in this area of Italy, I highly recommend you spend a few hours here. These homes are so unique and walking the streets of this small town will be a memorable moment. Individually these homes are beautiful and unique but put them together, they are a sight to behold.  You can read more about these homes in our post, Unique Trulli Homes.
A Small Collection of my Door Photos of Trulli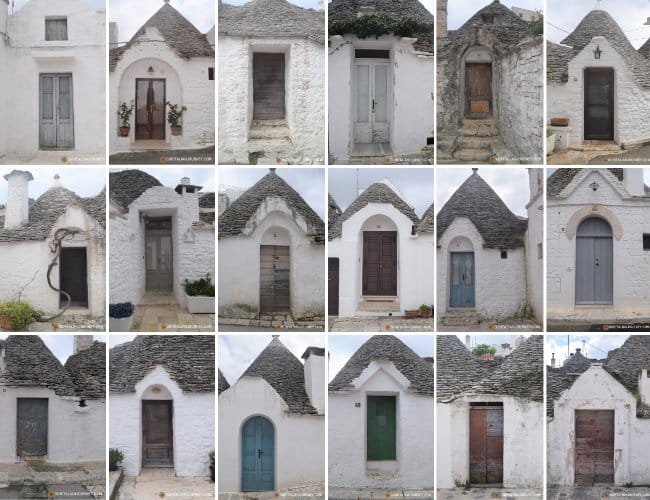 Find out more about these unique homes at National Geographic.
The Wood Doors
What was so delightful about this town was some of the homes were turned into shops. Even these shops maintained the unique door that was built with the home. The colors varied from browns to blues but nothing as bold as red or purple. What surprised me was many of the homes had glass inserts in the wood doors. This of course presented me with the problem of catching my reflection, but thank goodness I have a graphic program that I could remove my image!