This post contains affiliate links which means that we may receive a small commission if you make a purchase through a link at no additional cost to you. Thank you for your support!
Our Italian Journey has been nominated for the
Liebster Award 2018!
We are so very excited and honored to have been nominated for our first blog award! Here we are in the middle of November and busy doing our final preparations for our 1-year adventure in Italy. We were in the middle of securing our second apartment for March 2019 and I noticed a message in my Facebook inbox. What was this, I wondered? I took a peek and found out that we were being nominated by Laura from Undercover Travel Agent Ahhhh, I was so surprised! Laura is a Travel Agent and blogger living in the Chicago area and has an adorable dog named Buster.  Laura offers travel advice and tips along with news and vacation deals. Thank you, Laura, for this recognition!
---
About the Liebster Award
The Liebster Award is awarded by bloggers to bloggers to recognize their achievements on travel blogging. We are so grateful to be part of this amazing group of bloggers!
Thank the blogger who nominated you in the blog post and link back to their blog.

Answer the 10 questions the blogger asked you.

Nominate blogs with a fresh perspective and great content, to receive the award and write them 10 new questions.

List the rules and display the Liebster Award logo in your post and/or on your blog.
---
10 Questions to Our Italian Journey by 

Undercover Travel Agent:
 1.   If you won a trip to Europe, who would you take with you?
My answer would be easy, and it would be my best friend and husband of 38 years, Gary. He is the best travel partner as he is open-minded to ideas and suggestions. His food likes are similar to mine (although he is a bit more adventurous than me), and our interests are so similar it makes traveling so terrific!
2.   Which of your blog articles is your favorite? And why?
It would have to be our most recent, Citizenship and Passports | Editor's Pick of the Year. It is about finally obtaining our Italian citizenship and getting our passports. In 2010 on our first trip to Italy, we decided that Italy would be a wonderful country to explore more; especially since Gary's family came from Sicily. We decided to try and obtain citizenship through Gary's ancestors and the Jure Sanguinis process. We were successful taking almost 3 years.
3.   Who would you choose to be stuck on a plane for 24 hours?
It would be husband and wife authors, John and Nancy Petralia. They have written two books, "Not In A Tuscan Villa" and "Looking for Garibaldi". We have become good friends with them yet, have never physically met. It was their first book in which Gary and I decided to stay 90-days in Parma, Italy. I would love this 24-hour opportunity to get to know them better!
On to Question #4
Who is the most interesting person you've ever met while traveling?
It would be a woman named Francesca that we met while staying 90-days in Florence, Italy. We met in a restaurant she was managing at the time and connected immediately. She helped me with my Italian while we helped her with her English. She is an amazing person with inspirational goals for herself and her career. We visited the restaurant many many times that trip because of her and the food was fantastic too! We remain friends today and can't wait to see her again during our year in Italy.
5.   If you found a magical genie who would only grant you one wish, what would it be?
I would wish for enough money to enable our four children with our nine grandchildren to travel and see a bit of the world. I think a stamp in a passport is a far greater gift than any possession you could have.

The Questions Continue…
6.   If you could travel anywhere in the world for free, where would you go?
I think I would have to say Spain. It is on our bucket list and we will get there eventually but I have heard some amazing things from other travelers that have put it on our list.
7.   What's the weirdest thing you've ever eaten while traveling?
It would be a rabbit. While in Prato, Gary and I sat down in a piazza to have lunch. I was involved in looking at the surroundings and taking in the daily activities that were happening around us and I guess I didn't read the menu completely. It was alright and the sauce was amazing but a bit odd taste to me that I probably wouldn't order again. Plus Avery, our oldest granddaughter gave me a scolding for ordering it! It was cute!
8.   What is your preferred method of travel? Air, Land, or Sea?
I think air because you can get from one destination to another faster. Faster means you can see and experience more things!
9.   If you were on a cruise with the worst beverage variety ever, and they only served one beverage…what would it be?
Being on a cruise it would be a fruity drink with an umbrella such as a strawberry daiquiri. That screams cruise vacation to me!
And Finally…
10.  Where is your favorite place you've ever been? And why?
At this time, of course, I will have to answer, Italy. Most people love Italy because of the food and I am no exception either. But I think for me it is the people and friends we have made on our journey. There is nothing like getting to know the neighborhood markets and the people that either own or work there.
We had an amazing experience in Parma, Italy when at a local chain grocery store, one of the managers noticed us and when we started talking (in our best Italian) he found out we were from Arizona, USA. From that day on, every time he saw us come in the store he would shout, "Ciao Arizona!" His acknowledgment always made us feel welcome.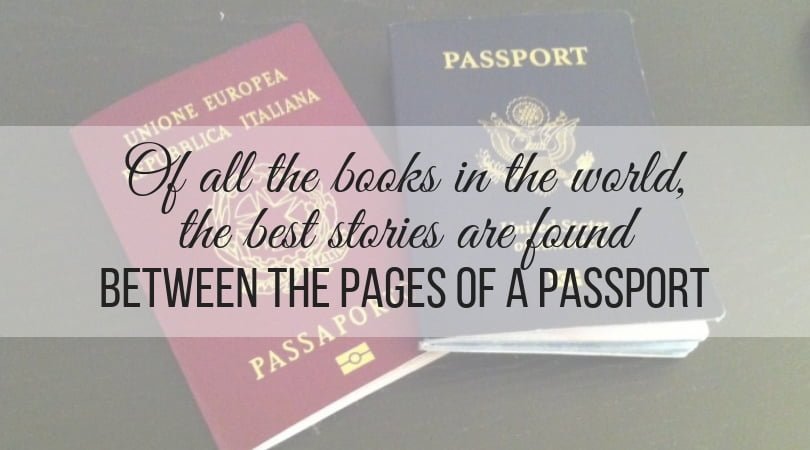 My List of Nominees
1.   Momma To Go
The following nominees have not officially accepted and probably traveling. We have tried to reach each of them by email and Facebook to no avail. Due to the fact we are leaving in a week for Italy, and not sure about internet access, I don't want to hold up the process.
---
In Conclusion…
We are always looking forward to discovering new blogs and learn about the individuals behind them. Bloggers can take you to places you have never been to before. Best of luck to all nominees in the 2018 Liebster Award!
This blog has been our way of sharing our journey and hopefully, in the process, help others with their quest for dual citizenship. We share information on places to visit along with tips for traveling. If you would like to know more about us, subscribe for weekly updates and posts. We'd love to have you along for our adventure!
---
---