Grocery Shopping in Italy
Gary and I enjoy grocery shopping in Italy as it is truly an event all its own. There are rules to be followed or you might get the "evil eye" from some fellow shoppers and perhaps the employees too. We try very hard to comply with the unwritten rules.
This post contains affiliate links. Our Italian Journey will receive a small commission from purchases made through links at no extra cost to you. Thank you for your support!
As it is now in most of the US states, you must bring your own bag to put your groceries in or you get charged about €0.10 – 0.12 for each bag. Well, that's the charge in Italy. Can't say I know for a fact what it is in the US. I always carry two IKEA nylon foldable bags in case we stop somewhere and shop.  In most stores in Italy, they even charge you to use a metal shopping cart*. They always have tall plastic bins on wheels with a handle to use free of charge. We use that.
* UPDATE 8.15.19:  Through comments directly on the blog and Facebook, we have learned that these metal carts take a token (coin) which is returned to you when the metal shopping cart is returned! We had no idea and thought people were paying for it! Thank you, Nancy, Karen, and Lisa who made us aware! We so appreciate your comments!!
The System for Produce
When grocery shopping in large stores, you will find thin plastic gloves and rolls of bags usually by the weigh station. In grocery stores, you can touch the fruit and vegetables but you must wear a plastic glove. You get a clear bag, put your item in the bag (using your glove!!) and take it to the weigh station.
At this station, you put your item on the tray, find the proper number that was indicated on the display when you choose it (you can see the number indicated in blue in the bottom right photo). The machine then prints a sticker with the item's name, the weight, per kilo price and the total cost. You stick it on the bag and continue shopping. Pretty simple once you know what you are doing.

Things We Notice
Of course, we laugh when we see a familiar item for example, in the refrigerator section – Philadelphia Cream Cheese! You just don't expect seeing it among the choices for mascarpone cheese! Philadelphia is what the Italians call it and it is a big thing here. I remember watching an episode of Buddy Valastro on Cake Boss with Gary. The family was in Italy and he wanted to make his wife a Caserta cake. Very Sicilian. Buddy was trying to explain the ingredients and finally, after several moments, he was shown blocks of Philadelphia cream cheese! Perfecto!
Another thing we notice is that there are not as many brands here in Italy. If you are looking for, let's say, ketchup – you will only find a few to select from. I assume it is because the shelf space is pretty precious as the stores, in general, are not as large here as we are used to. Although, we did go to a store in Scafati and it was huge! Here is a photo just of the pasta aisle alone. It's funny because, in the States, it's the cereal aisle that looks like this!
It is fun to try new things and experiment. We thought we were buying plastic wrap one day and came home with parchment baking paper instead. Okay, we'll find a use for it!
Another large section is the area for sale, salt. There are large boxes of fine and corse and then smaller items. The olive oil, which is usually next to the salt, also has quite a large presence on the shelves.
Check Out
Checkout is different as the checkers sit; they don't stand.  Well, not in all places but usually. They take their time and get you through the line. There isn't a whole lot of space to pack your bag so you usually have the bag on the floor while you pack it. You think they could rework the space somehow, oh well.
The Quality
The food is amazing even at the grocery stores. Fresh homemade ricotta, fresh sliced Prosciutto di Parma, and fresh pasta are waiting to be chosen and brought home. Wine is so reasonably priced here too. Wonder why I can't lose any weight here.
Fruit & Vegetable Stand vs. Grocery Store
When we stop at a frutta e verdura stand on the street, things work a bit differently. Don't even think of picking up the peach you want! You point to the stand owner and tell them how many you want. They don't want you to squeeze their fruits and vegetables. You can ask them to choose ones that are "ripe" or than you can eat, oggie, today.
Of course the 'no touching' doesn't hold true with Luciana in Arezzo. She and her husband are so sweet. We stopped in one day and immediately Luciana began helping me with my Italian. She chooses the best peaches for us and let us try some other fruit we weren't familiar with.
Our next visit a few days later, we were recognized immediately. You could tell by the expression on their faces. During this visit, we met their daughter and was told she speaks English. I shook her hand and told her "sto imparando l'italiano," I am learning Italian. I explained that her parents are helping with my Italian lessons and they are so wonderful. That day Luciana gives us a container of a Tuscan salad she made with bread, tomatoes, cucumber, peppers, and onions and tells her husband who was ringing up our purchases – 'no charge'. It was her gift to us.
Luciana told me to cut up some of her peaches and put it in my vino rosso, red wine. That night I did and posted a photo on our Facebook page. I showed their daughter the post and her parents were so thrilled that no only did I try their suggestion, that I posted a photo of it too!
It is experiences like this that make this journey so special. It will be sad when we leave Arezzo but I know Luciana will miss us too!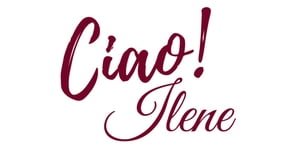 Editor's Note:  This article was originally published on September 2016 and was updated in August 2019 for additional information.