An Amazing Day in Innsbruck, Austria
While in Verona, Gary and I took a few days and headed up to Innsbruck, Austria. Innsbruck is the capital of Austria's western state of Tyrol. This city in the Alps has long been a destination for winter sports, and thank goodness for me (who doesn't like snow) there was none there in the middle of September!
This post contains affiliate links. Our Italian Journey will receive a small commission from purchases made through links at no extra cost to you. Thank you for your support!
Train Ride
The train ride from Verona, Italy to Innsbruck took about 3.5 hours and it was the most beautiful train ride I have experienced in Italy to date. The further north we got, the more the scenery changed. From vines filled with grapes to vines with green and red apples could be seen from our train window. Mountains became visible and the homes began to change in appearance. Homes with shingles in dark brown, blue and green appeared as the homes with red tiles disappeared from view. White homes with dark brown wood cut-out balconies appeared with flower boxes. Each flower box followed a pattern of colors; beautifully alternating.
Usually, I practice my Italian on my iPod during these train trips but I couldn't focus. The scenery was so breathtaking I just couldn't concentrate. The spotted villages among the crevices and at the bottom of the mountains stole my attention.
The only break encountered was through The Brenner Tunnel. It is a 55-kilometer-long railway tunnel through the base of the Eastern Alps beneath the Brenner Pass. It runs from Fortezza, Italy to near Innsbruck in Austria.
Aldstadt von Innsbruck (the Old Town)
Innsbruck is famous for its Gothic-styled architecture. Innsbruck also has a great deal of Baroque but I think Gothic style rules here. This beautiful architecture characterizes the medieval period and includes elements such as pointed arches and flying buttresses. The majority of the local buildings are old in this part of town and some of them even date back to the 12th century. They are beautiful – breathtaking actually and so detailed in design.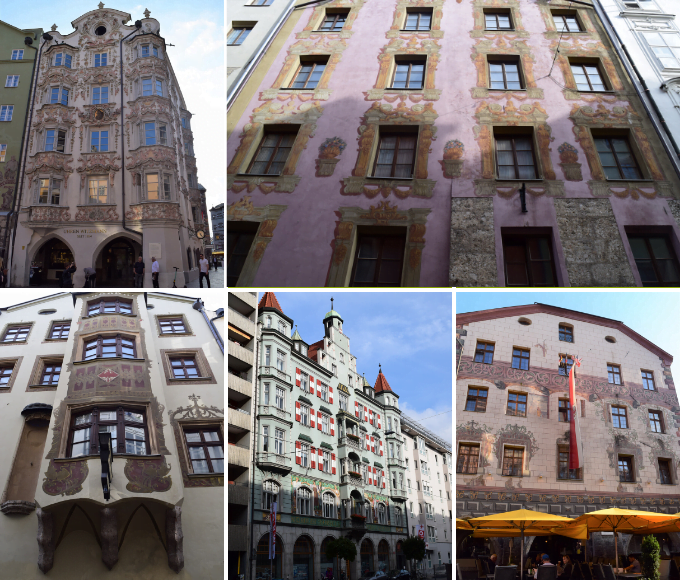 The Golden Roof
Located in Platz (piazza name in Austria) Herzog-Friedrich Strabe, The Golden Roof—or Goldenes Dachl as it's known by the locals—is probably the city's most famous landmark. Completed in the 1500s, the roof is decorated with 2,657 fire-gilded copper tiles. It was created for Emperor Maximilian I to mark his wedding to Bianca Maria Sforza. The beautiful roof shines bright gold in the sun which makes this building stand out from the others in the Platz and quite a sight to see.
Views From the Nordkette Mountains
There are actually three options to view Innsbruck below from the Nordkette Mountains.
The Hungerburg Funicular takes passengers a quick and short way up to Hermann Buhl Square. The cost is a few euros and you can see some amazing views of the city.
From Hermann Buhl Square, you can take the Innsbrucker Nordkettenbahen or cable car up to Seegrube.
The third option is the cable car from Seegrube to Hafelekar Peak, which is what we did and takes you as high as you can go at 2,300 meters. Here, you get beautiful panoramic views of the Alps. Technically, they are part of the Alps and we will discuss this further in another post.
There are various activities offered in Seegrube and Hafelekar Peak. There is an amazing mountain biking path, hiking, hang gliding, skiing, and more.
For full details on ticket prices, hours of operation, and planning your visit, go to their website Nordkette

The Innsbruck Card
If you are planning on a few days visiting museums in Innsbruck and, riding the cable car, the Innsbruck Card is worth purchasing. This card covers a ride on the Innsbrucker Nordkettenbahnen cable car, admission to several museums and tourist attractions, as well as, transportation on buses, trams, and bicycles. This card is available for 24, 48, or 72 hours. For full details on the Innsbruck card, Innsbruck City Card
---

One time purchase $27.00!
---
The Food
We tried some of the most amazing local Tyrolean dishes and Octoberfest beer. It was such a change from our Italian menu that we really loved the change in culture. For dinner, we enjoyed Beef Goulash and Venison Stew while sharing dumplings for an appetizer and apple strudel for dessert.

Tyrolean speck, mountain cheese, cured sausages, make for an amazing charcuterie board. Of course, I went crazy for the amazing pickles and pretzels that came along with it. The prominent Wiener Schnitzel is traditionally made of veal and found on the menu in most restaurants. Other traditional Tyrolean delicacies are schnitzel and spaetzle. Storefront windows are filled with palatschinken, pancakes dusted with powdered sugar. Strudels come in various ways with the popular sweet version, apple, but for savory options, you can try ham and cheese, herb and bacon, and vegetable mozzarella for a quick lunch.
Some Great Points of Interest
Although we were only in Innsbruck 1.5 days, we would have loved to have seen these other places of interest. If you have the time in your itinerary, check these out. Of course, there are many other sites to enjoy in this beautiful town.